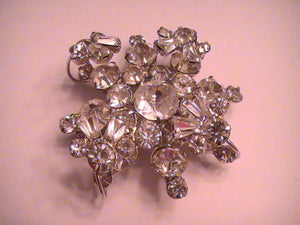 Start Spread... White Magic
Regular price
Sale price
$93.00
---
PLEASE READ  BEFORE BUYING<br /><br />

I will be away for a week and can not answer emails. I will have no use of a phone or computer during this time. On and off I may get a chance to use a phone but I'm not sure.  Please note that shipping takes 10 days from the time you order the item. IF you are new to the site also note that it is a good idea to sign up for the newsletter or forum and check your emails from one of the other. These emails give you the coupon codes,radio show schedules and new items.<br /><br />

Lay-a-ways are accepted with 20 percemt down and non refundable. You must send your payment to kissmecrazie@gmail.com using paypal.In the paypal notes please state what it is for and that it is a lay-a-way.<br /><br />

For new people and others,many of the items are one of a kind and many also antiques. Please take that into consideration when buying. I say this because care must be taken with older pieces. If your not sure of the item then email me and ask.<br /><br />

I will continue on with information about the Blood General and things I learned in Heaven when I get back. The Blood General is King Louies duplicate. No one is seeing him unless King Louie lets him.START SPREADING THE NEWS

We were SO excited about our trip to New York as we try to have an outing with the staff once a year. Normally we go right into the heart of it all, New York City, but this time we decided we would venture north to the falls.

I had been there one time when I was younger and on the way up told Deedee about the story that I had heard about the 'shutting down' of the falls back in 1969.

I couldn't recall all the details, as I was young and didn't pay a ton of attention, but remembered the year and that they stopped the flow of the falls.

When we reached our destination we decided to take a tour of the Falls and learn about the implications, and differences, of the U.S. and the Canada side.

Deedee asked about the incident I referred to on the car ride, about what I learned as a child.

And I was correct, in 1969, the U.S. Army Corp Engineers diverted the water that typically flows over the American Falls so they would be able to figure out how much the rocks underneath had eroded, and repair any damage.

They said that the one Engineer had found some cool things beneath the falls. After more probing and questions, we got the name of the retired man, and visited him at his house.

We learned that when the water was no longer flowing down the fall, that the Engineers surveyed the surface of the rock formations below. When Henry, the man we went to visit, was upon the rock, he saw a shimmer of light below through a crack.

He utilized his tools and pulled a chisel to which he was able to break apart the crack in the surface and to his delight find a small treasure of items!

No one was around him, so he placed several in his pockets and then showed the rest to his co-workers.... as he didn't know if they would want to do more digging, and couldn't justify it without proof of something.

A government affiliate was called in, took the items and nothing was ever said again, except by the Engineers who told their families -- and thus how the tour guide knew.

Henry shared his findings with us, accidentally -- and we promised not to turn him in... although he is very old and no longer even cares.

As soon as Deedee touched these pieces she knew that they were extremely powerful.

Henry was amazed by the reaction that Deedee proclaimed and thus allowed us to have this item in turn for helping him work with the other pieces.

This piece will generate the force of imperial connectivity that will make your body a collaborated officiator of manifested white magic. You will become a residual master of amazing majestics -- as the pieces were sent through the water by a Sorcerer.

The energies are incredible, and they were to remain a secret for years. We have no idea when they were placed there?!

You will be a modern supporter of opportunities that will work with the links of archons, and remit divine power into your body... thus granting you blessings that will grant you extraordinary prosperity in all facets of your life!