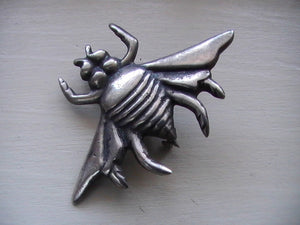 FLY TRAPPED POWERS OF THE SWAMP
Regular price
Sale price
$60.00
---
Scary Swamp Sports --

There is a practice that originated in the north of England known as swamp soccer. This is a form of soccer that is played in bogs or swamps.

The 'sport' was first introduced as an endurance event for soldiers, but since has been opened to everyone.

Currently there are 260 swamp soccer teams around the world.

A few years ago while practicing for a game, Andre, kicked the ball into a really wet area; he went to chase after it and was surprised by an odd creature.

The creature was immense and came out of the grungy, grassy area and stared Andre in the eyes.

He was hypnotized by the power of the stare. He recalls feeling his blood boil and he thought he was going to die; but instead the gaze gave him enchanted powers.

Andre said that the being absorbed back into the swamp and he ran to get out of there. When he returned, without the ball, people questioned what happened? He started to tell them about the creature, but they didn't believe him.

Without an extra ball, the practice was over. Andre went home and could not get the encounter out of his mind. That night when he went to bed he had crazy dreams that surpassed the meeting; he was scared.

As a teenager he wasn't sure who he could talk to. After searching the internet about his encounter, he came across our website. He contacted us and after hearing his story we flew him in to meet with him.

Andre, and his mother, visited with Deedee and we were able to do a ritual pulling to gravitate the emergence of powers that were implanted within Andre.

He was only 14 at the time and didn't understand the amazing infusement of power that was placed inside of him.

The hypnotizing stare forecast him with abilities of: future sight, controlled mind movement capabilities, third eye awakening and absorption powers to pull desired energies for his needs.

Unfamiliar with any paranormal abilities, Andre was scared of what he was seeing and feeling. His fear is your gain!

Our performance of the abstraction of powers implemented the pieces you see here as the new home of the creatures powers that were relinquished originally to Andre.

After working with the abilities and testing the pieces, we believe that the creature he encountered is related to the Cthulhu Larva, known as the Swulnul; a very rare, scary looking water and swamp area dweller.

It is no wonder Andre was scared of what this creature "did to him." The powers are strong and will not harm you, they will enhance you and bring you immense strength in the abilities.

These items will not last!