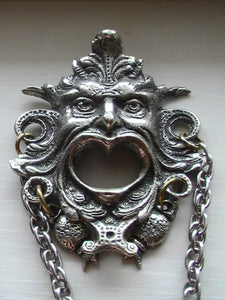 DEEDEE'S DEMON EATING PENDANT
Regular price
Sale price
$3,500.00
---
Deedee's Demon Eating Pendant~

This is a journal entry from Deedee's diary that was written over 28 years ago...

"It's been over four years since I saw the Dark hooded figure in the bathroom mirror in the apartment I use to live in. Since then I moved twice. I am now currently in the process of moving again and I saw something that has now a second time put chills down my spine and made my heart rate go up.

My family and I are moving. Unfortunately our power and water were cut out two weeks early and was not turned back on. We had no choice but to wait until the house we are going to move in opens up. While my parents stayed at my sisters to help watch my nieces I stayed at a friend of the family's.

One night my younger sister came over to keep me company and spend a couple of days and nights with me. Late one night while I was on my laptop I heard her yell my name from the shower. I ran inside to find out she had somehow accidentally locked herself in the shower. I had to lift the door in order to get it open and I did a quick glance at the mirror on the bathroom door next to me and did a double take and both times saw the dark hooded figure which I believe is the one I have seen before. It frightened me to the point where I slipped, fell, and fled towards the sink on the ground just panting.

My anxiety has been picking up for some reason and this didn't help it at all. My sister just looked and asked if I was ok. I got up brushed it off. Looked in the mirror and saw nothing. At this point I was frightened more because something I thought I had left could possibly be following me. I believe it purposely locked the shower door so I would see that it was still there. The odd thing about this is I have only seen it in the mirrors in a bathroom. Nowhere else.

Thinking about it frightens me because all I can think now is that this thing could be starring me in the face and I wouldn't even know."

Deedee had sensitivity and psychic visions for as long as she knew, but she knew this was not a vision... it scared her! She went to the library and started researching the paranormal, when she went back for another book she saw a mystical woman looking in the same area. The woman asked Deedee what she knew about the paranormal and it started a long conversation.

The woman's name was Ursala and Deedee began spending time with her; she learned a lot about occult magic and the powers of white and dark. Ursala knew that it was a demon following Deedee, that had not yet been able to get inside her.

She gave this piece to protect Deedee. This is the first piece that started the correlation of power and eviction that began Deedee's career of helping others through occult and paranormal feats of power!

This is a demon eater pendant that will protect and diminish a dark entity that is trying to gain control over you by entering your core. Deedee was lucky that her psychic visions woke her up periodically throughout the night, because that is why Ursala believes she was able to keep the entity out of her as long as she did before having a vanishing piece~!

This is the beginning mastery piece behind Haunted Curiosities and will protect you from this moment forward, when worn, from allowing evil entities to enter your spirit. This item will take the darkness through the heart shaped mouth and proclaim them into a realm of damnation, while keeping you sage and clear of any evil beings.

This is a bargain price for the protection it will bring, but it is even more of a deal because it is the basis of all the enrichment that Deedee has been able to share with so many people!