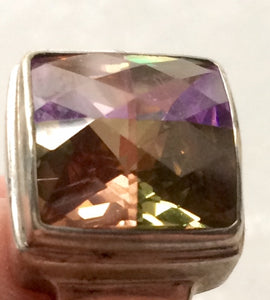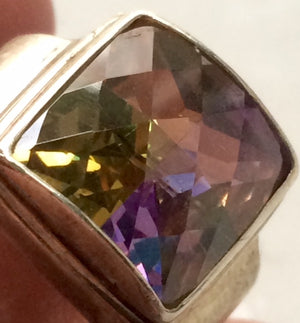 SANGUINE MASQUERADE
Regular price
Sale price
$345.00
---
There's an abandoned jail in my home state of Pennsylvania.  It's in a town called Columbia and unbeknownst to myself, I have passed this jail on several occasions without ever really noticing what it was.  Taking that into consideration, I can imagine that most people do the same thing that I do.  They are so consumed by their busy and overflowing lives that they never really take the time to notice-- or fully notice their entire surroundings.  They are only half way into what is actually going on around them, so while some may say that this building is not the perfect hiding place for the paranormal, I disagree.  Besides, nobody ever looks for the strange and unique when it's right under their noses.  They think they have to visit some old abandoned mansion in the middle of the Massachusetts woods in order to find something creepy and intriguing.  Also, not true.  There is more paranormal activity going on in the world around you than you'd likely believe.  Trust me, I see and encounter it all the time.  So, my point is that this jail is home to some of the most insanely intense paranormal activity that I've ever encountered.  I know this for a fact, because once I realized that it actually existed, I organized a small research group consisting of myself, Deedee, and one other employee.  We went out armed with nothing but flashlights, extra empty vessels (just in case), and our psychic intuitions.  The results are stellar. 


Now, I've always known about the vampire farms in Harrisburg, PA.  They are quite extensive and for some reason vampires really love PA.  I think it's due to the fact that the whole Northern half of Pennsylvania is nothing but coal mines and abandoned coal mines and ghost towns that used to be cities that exist because of coal mines.  It's a serious affair.  That's why we call it the "Coal regions."  The places are seclusive and quaint, but Harrisburg is a little more centralized of a place, so this is where the vampire farm exists.  It's just the way the cookie crumbles, folks.  What I was never aware of is that in Columbia, PA, in the jail that I was just telling you about, there is actually a vampire base.  Now, I'm sure you're asking yourself "what is a vampire base?"  Well, not they necessarily need one, but for those vampires who have vowed that they would never take a human life, there are these bases where they can go to kind of just hang out be themselves.  You know, be vampires, without giving away their true identity to those humans that surround them on a day to day basis.  There are stations, deep beneath the ground, where there human blood is supplied for the vampires, if they'd like some.  There are other things for them to do there, including recharge their sanguine powers, a portal to hop through time/space if they choose to visit far away realms, and other interesting chambers of magic.  It is all organized by a coalition of vampires, most of them who were born on the vampire farms in Harrisburg. 
On our investigation, we were fortunate enough to not only visit, but to experience the vampires.  They said they knew that we were of no threat to them, which is why they showed themselves to us.  Under other circumstances, they would have remained silent.  However, they got a good psionic reading on us and new that we were about our business and that we hadn't come for the point of sabotage.  This is why they shared their powers with us and how we are offering these pieces to those who we deem worthy.  In society, there are all types of creatures that lurk in the shadows and some who don't.  Either way, their true existence is hidden from the naked human eye.  They masquerade as humans, but on the inside they are ageless witches, vampires, werewolves, fairies, elves, wizards, etc.  They keep their identity from humans, because humans are, in general are destructive with magic because their brains have not been conditioned the way other entities' brains have been conditioned- to fully understand the realm of magic and all that it entails and offers.  This is where this piece comes into play.  
This piece is an opening of your magic, sanguine third eye.  It will give you an awakening that will help you understand and control magic the way other entities do.  With that, you will receive a healthy serving of sanguine magic that has been prepare for you by the coalition that we met in Columbia.  These are full on, sanguine awakening powers that will react with your DNA to open up your full faculties of sanguine ability.  It will also unveil your eyes to the world of the paranormal that exists all around us and you will finally be able to identify "people" for who and what they really are rather than what you have been conditioned to see them as.  This piece is very powerful and we are honored to be able to offer it to you.  For now, we only have one of these items.  However, if need be, we can probably acquire more, if you foot the bill to gain these powers! 
DISCLAIMER:  IF YOU ARE LOCAL, OR EVEN IF YOU'RE NOT... DON'T GO TRYING TO FIND THE COALITION OR THE BASE.  IT'S VERY WELL HIDDEN THROUGH A NETWORK OF UNDERGROUND TUNNELS AND CHAMBERS THAT HAS BEEN CONSTRUCTED BENEATH THE JAIL.  YOU WILL NOT FIND THEM UNLESS THE DECIDED TO SHOW THEMSELVES TO YOU, WHICH, IN THEIR OWN WORDS, HAPPENS ON A SLIM TO NONE BASIS.