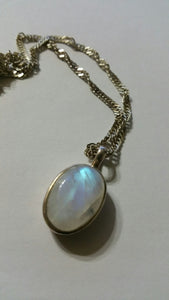 GALACTIC AWAKENING WITH AN ACTUAL MOONSTONE
Regular price
Sale price
$257.99
---
Whenever tragedy strikes there is one question that has to be answers.. "Why?"  As in why did the Apollo 1, which was the seemingly perfect spacecraft blow up during the testing that took place right before the rocket was set to fly into space?  There are no simple answers to this question, as a source for the ignition has never and will never be found.  It leaves us to wonder if there was something more sinister going on than just negligence in fire safety.  I mean, for starters the rocket's door opened to the inside, severely hampering any effort to leave the cockpit should there be a salvageable explosion. 

Well, that's to consider after you consider the fact that the rocket's door couldn't even open after the chamber had been fully pressurized.  And all this is to be considered after we ask why was 100% medical grade oxygen being used inside the module, when clearly it poses the biggest risk of all?  If you ignite pure oxygen, it's kaboom! for anybody in or around the module, which is exactly what happened to the Apollo 1.  There are just so many errors that add up in the even when something does go wrong, and it did.  Three men lost their lives n the Apollo 1 incident.  These men are Virgil "Gus" Grissom, Ed White, and Roger Chaffee.  It doesn't begin to make sense. 

After investigation upon investigation, there are still no answers as to why these three men lost their lives and the nostalgia of being able to be the first three men to walk on the moon.  It was shady enough to cause Grisson's own son that he suggested NASA of foul play.  He claims that NASA boogered the test in attempt to kill his father and his crew mates and succesfully accomplished their mission.  NASA dismissed this claim saying that they understand that these comments were merely, "the ravings of an understandably angry child."  Or were they?  Why would you want to murder the perfect Astronaut? 

This piece is the perfect testament to why Gus and his clan were taken out in the Apollo 1 incident and after using this piece you will have no doubt in your mind that this was all done as a cover up.  Turns out the Mr. Grissom wasn't supposed to have fallen into this piece, but he did anyway somehow and when the higher ups at NASA found out they didn't want the world to find out.   Grissom shared this information with his fellow mates.  It was exciting news for all of them, because what this piece is, is an alien communication piece; but not just any alien communication piece.  You know how our government lies to people and it they never cease to disappoint.  It turns out that Gus wouldn't have been the first man on the moon.  As a matter of fact neither was Neil Armstrong.  People, the truth is that we've held technology to be able to travel to the moon since just around the time the Declaration of Independence was signed-- and probably even before that.  After all, our country WAS founded on principals taught to the Illuminati by Egyptian mystery schools.  History has just been rewritten in a way to keep the human mind and imagination at bay. 

The fat of the matter is that the government has been on the moon for a long time.  There are subterranean space stations in the moon where the government breeds its own form of alien that they got the prototype for from an encounter with aliens a very LONG time ago.  This prototype has the ability to read space as if it were an atlas.  If can predict any of the occurrences that are to happen in space overtime.  It can read the star maps, like the ancients used to, in order to travel back and forth in time.  They can teleport themselves to far corners of existence and they can bring knowledge back to the American government, which they use to further their stronghold in creating a one world government system to take over the world.  Hello, United Nations!!  These alien prototype that the US are making in their lunar space stations also have 100% complete control over all of their senses, normal AND psychic, included some psychic powers that not even I have ever encountered before. 

Grissom found out about this procedure that they call Operation Space Child.  He told his comrades.  They all suffered a horrible death in which the couldn't have inhaled smoke, because they were all in their space suits.  That means they burned to death; and that is how our government treats its people.  Nonetheless I have come into contact with the one of the same pieces that gave Grissom all of his inside information.  When you use this piece, it develops a psychic bond between you and one of the alien prototype.  I'm guess NASA made these so they could communicate with the prototype on a daily basis for new information.  With this piece, you will develop a direct psychic connection to one of the alien prototype and you will be able to exist as they exist, see as they see, hear as they hear, feel what they feel, and know what they know.  You will gain their powers and all of their knowledge of star maps that he universe.  It is a very powerful piece especially if space/time continuum travel and other unique stuff along those lines is what you're into.  We only have one, and although more than one have been made, I doubt we'll find another. 
THIS PIECE WAS ACUTALLY MADE FROM A MINERAL FOUND ON THE MOON THAT IS POSITIVELY CHARGED WITH IONS THAT WILL NATURALLY CAUSE YOUR INTER-STELLAR REBIRTH.  THAT MEANS THAT WHEN USING THIS ITEM, YOU WILL RECIEVE A GENETIC MAKEOVER IN ORDER TO GAIN ALL THE POWERS AS LISTED ABOVE.  I'M NOT QUITE SURE WHAT THE MINERAL IS CALLED... IT'S SOME TYPE OF STONE.  I DON'T WANT TO SAY MOONSTONE, BECAUSE THEN PEOPLE WILL ASSUME THAT I'M TALKING ABOUT WHAT EARTHLINGS ALREADY KNOW TO BE CALLED MOONSTONE; BUT IN ALL ACTUALITY THAT IS WHAT THIS PIECE IS MADE OUT OF... A MOONSTONE.  IT HAS BEEN HARVESTED BY ANDROID WORKERS ON THE MOON.  AGAIN, IT WILL GIVE YOU ALL THE POWERS AS LAID FORTH EARLIER IN THE DESCRIPTION.