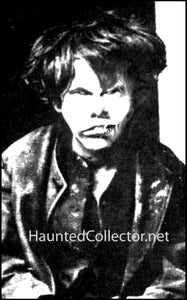 ANTI-D-EVOLUTION
Regular price
Sale price
$65.00
---
Anti-Devolution 

Okay, so in school-- and in higher educational institutions-- we have always been taught that man is a creature that is constantly evolving for the better, right?  Although some Christian critics like to think of this as being blasphemy and apocryphal to believe in any type of evolution, I think there is definitely a happy medium between the two, such as Christian theory and the Big Bang.  The need for Christians to act so irreverently to scientific evidence just goes to show my following theory.  They are right about the evolution of the human. We aren't becoming smarter and smarter.  Rather it is the opposite.  Humans are becoming dumber and dumber; and I'm talking about in terms of spirituality and noble truths.  Yes, after years and years of research humans have been able to come up with nanotechnology that will do amazing things for us.  However, if we were as smart as our late ancestors were, we could do these things with our minds... like they did.  If we could still project thoughts and images with our third eye, to a psychic network that is existent naturally, I wouldn't have to send pictures with my smart phone, now would I?  If I could use an embedded star map that was in my mind, because I was fully in tune with the powers of nature and the universe, I wouldn't need my GPS, now would I?  

Consider the fact that every time we talk about magical powers we are either talking about A.) Some form of alien existence or B.)  a people from the past.  How many times have I said... "This piece is cool, it comes from the modern Egyptians."  Yeah, I can't remember a time either.  We could talk all day about the ancient Mayans, or Egyptians, or Atlanteans, or the Sumerians, or even, YES... the powerful people from the Bible itself, such as the Israelites with their powers of God or the Egyptians with the powers of their gods... or the Assyrians with powers of Baal.  I mean the list goes on and on.  The ancients, the people of old, the times that have come to pass.   It's always about the magic from the people of the past.  Why?  Because quite the contrary is going on.  The human mind is devolving.  It is regressing because the world just keeps on getting dumber and dumber.  It's because we have fallen away from our practices of the past-- enlightenment, magic, alchemy, third eye chakratic magic.  We have turned to things that will do the work for us-- computers, cell phones, televisions, and other techno crap.  For entertainment we have turned to people like the cheap punks form Jersey Shore, or the drama queens from Real House Wives of Atlanta.  We watch people like Honey Boo Boo and other mindless crap that is constantly dulling and devolving the powers and functionality of our brains.

This item has been instilled with the presence of the ancients.  It will give your brain an awakening and allow you to fully shield it from devolution that other people are currently susceptible to.  It will help from the slow processing of the dumbing down of American, because it you haven't already noticed its becoming an epidemic.  If you turn on the Jersey Shore, you can see it.  I don't want to say anything mean, but this is the perfect show to watch the devolution in progress.  I mean, when is the last time you've actually turned on the television and saw some talent?  Yeah, it's very few and extremely far between.  That's okay, though because this item holds all the shielding you will ever need so that way the "dumb" energy and devolution process will not affect you.  You will be able to maintain your intelligence and the balance that our ancestors had that allowed the to practice magic, spiritism, alchemy and the rest of their powers. It will put you on the grid line of the energetic earth flow, where you will contain the intelligence and know-how to source your own version of ancient powers and abilities!  Exciting stuff, especially in a world that relies on Siri to find the nearest pizza joint!  The best part about this item is that you can use it to transfer the energy to others, so you can save them to.  Let's start a counter-revolution.  Make this piece yours today and begin spreading the wealth of intelligence and enlightenment!! 
THANK GOD IT WORKS FOR YOUR ENTIRE FAMILY! IF YOU THINK YOU DON'T NEED THIS ONE BECAUSE YOUR INTELLIGENT,DON'T KID YOURSELF. SOON THERE WILL BE NOTHING INTELLIGENT OUT THERE FOR YOU,DON'T LOSE YOUR MIND OR BRAINS AND IF NOTHING ELSE GET ONE FOR YOUR CHILDREN,GOD KNOWS IN PUBLIC SCHOOLS THEY WILL NEED IT! YOU MAY PICK A PENDANT,NECKLACE OR BRACELET