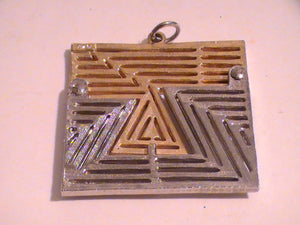 COSO GEODE
Regular price
Sale price
$115.00
---
This piece garners its powers from an ancient anomaly that is called the Coso Geode.  It's also called the Coso Artifact.  The origins of the find, from Olancha California, has been hotly contested over time.  Some, mostly people from the Spark plug Collectors of America, think that they artifact that was found is a 1920s Champion spark plug.  Why they have an association for collecting these old things, I'll never know-- but they do.  I can't make this up, you can Google them.  
Scientists who have worked with the piece agree that the artifact does indeed resemble a spark plug.  The fact remains that they date it to be 500,000 years old.  For those of you who didn't realize, that's half a million years!  It is quite an incredible find for several reasons, most of all it would serve as a sure fire way to prove that they ancients weren't asun-technical as we assumed they are.  
Unfortunately the artifact has been confiscated by the government and transferred to it's own exhibit at Area 51, for those who hold enough top-secret military credentials to enter the place.  It's like a museum in there.  The other artifact that people believe to be real is a replica that has been made to resemble the original, and it does a pretty good job of that.  It has had people convinced, since it was found in 1961.  
A while ago, I wrote a few listing about items that Deedee secured when she went incognito and somehow made it into Area 51 in the guise of a foreign diplomat.  She got her finger prints changed for the process and everything.  She can be pretty sly.  Anyhow, we held off on offering this item until we could take a better look at it.  we have used this piece very many times for verbal and physical communication.  Communication with whom?  Well, the extraterrestrials.  
You see, the artifact is indeed a piece off of some sort of ancient craft.  The appearance of the craft is left entirely open the imagination.  We don't know what purpose the "spark plug" served on the ancient machine.  However, it is clear that there is more than meets the eye when it comes to this ancient piece.  When Deedee touched it, she was sparked alright, but not like you might think.  She was sparked with a supernatural energy that rushed from her head to her toe.  It put in place what she describes as the fourth eye.  This is because it wasn't just a third eye awakening that she gained.  She did get that whole third eye awakening thing, with fully opened psychic powers.  I mean, she always has had those, but it gave her that ability all over again.  Additionally, it gave her a psychic connection to the universe, meaning the entire universe and all of the forms of life that exist out there.  
With this awakening, she has been able to hold mental and verbal communication with beings that exist here on Earth.  Suddenly, your eyes are opened and you can see these alien beings for what they are really, rather than the hidden being our world governments have forced them to become for the sake of the populace not panicking.  We've become so dumbed down that they think we can't handle these things.  That's why Roswell was covered up in the forties.  
Either way, it gave Deedee and immediate connection that allowed her to identify and communicate with the aliens on Earth.  It has also allowed her to send mental vibes into the universe that caused aliens to show up to her at times.  This doesn't happen all the time like the verbal communication she holds with the ones who are already here, but it does happen from time to time.  The best thing about this is that they offer her powers.  Time travel, astral travel, alien shape-shifting, the ability to control other organisms as if they were puppets, the ability to use dark matter to create powers, etc.  
While Deedee was in Area 51, she snuck away and was able to duplicate the energies of the Coso Geode into this piece.  The reason that we kept it so long was to work with it, but also because Deedee really enjoyed the communication with the aliens.  She said it was very eye opening and that they have taught her a lot about the world we live in and existence in general.  They have also given her powers that she has collected.  She debating on whether or not she wants to add those to the website, so for now this piece will have to do.  This piece gives you all the powers as described above.
THIS PIECE IS A SILVERY-GOLD PENDANT THAT YOU WEAR ON A CHAIN OR A CORD.