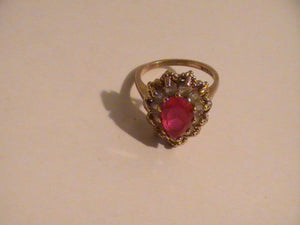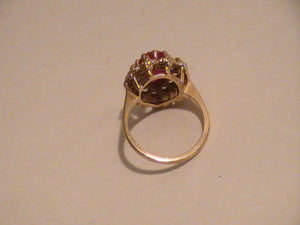 UNIVERSAL CHRIST
Regular price
Sale price
$2,000.00
---
Before I start, I just want to say that this is one of the more powerful pieces that we have listed in a long time.  We got in on an investigation that we were on recently in North New Jersey.  Well, we didn't necessarily "get it", more like it was given to us.  I'm not going to tell you by whom this piece was given to us, because don't want to ruin the story.  It was certainly one of the most bizarre investigations we have been on.  We see lots of things on investigation that we are expecting to see-- powers in pyramids, entities in haunted places, etc.-- but we can honestly say that we never saw this one coming.  
In North New Jersey there is a place in the mountains.  I don't really no what to call it, because for all intents and purposes its not supposed to exist.  Yet, it does exist.  It is a steel door that has been built into the side of the mountain and nobody seems to know what for.  It's just kind of there.  Many people have gone missing trying to find a way to open this door, which has been said to be anything from a portal from this world to the next to a secret operations base for our government or even aliens that live on our planet.  Whatever the case is, I am not writing this to tell you about our experience with the door.  I just wanted to place the right setting.  
On the same mountain there are these caves.  They almost seem natural, but they have been been built and set in place on purpose.  These are caves that have been designed to house human prisoners and they are somehow related to the massive steel door that goes to "nowhere" that has been built into the side of the mountain.  It was these caverns and not the steel door that we were interested in investigating.  We left early in the morning, planning on being back before night fall.  However, this was not possible, given the many strange finds that we found in the caves.  First and foremost, we came across fresh human remains.  These remains were hidden in chests deep down in the cavern, in places that any normal person would most likely not venture.  We are far from normal.  You know that we go places that nobody really ever wants to go.  
The stench of these chests was almost unbearable.  We also found a wide variety of skeletal remains.  They were of animals, but also of humans.  We even found a chamber that was lined with human skulls.  There were hundreds of them lined up, stuck into the side of the cavern as if they were set there, with the hollow eyes and grim smiles, to keep watch over the cavern and the work that was done there.  The place was lit up with the souls of what must have been 1,000 people.  We found no living subjects to bear any type of living witness.  By our own accounts, it almost seemed like this place was some sort of experimental laboratory, but given the fact that it was kind of primitive, we can't be entirely sure.  How nobody has discovered this place is far and beyond what I can comprehend.  Still, this is not the most mind boggling part of the investigation.  
As we were walking out of one of the small caves, we discovered a clearing through a small patch of woods.  The bizarre thing is that there was this shape left in the grass, by fresh burn marks.  It was almost like a crop circle.  In fact, that's exactly what it was like, except they were burn marks in the grass.  On top of this, the meadow was filled with a harmonic whirring, one like you would hear from a central air conditioning unit placed outside of a house, only it was a lot louder.  We looked around, but still saw nothing.  We were about to shrug our shoulders and walk away, when out of nowhere a spacecraft appeared to us.  It did not fly there from the sky.  It not come up from the Earth.  It was like one minute it wasn't there and the next minute it was.  We found out later that this was caused by a cloaking technology that made the machine invisible to us at first.  
The machine wasn't "parked" on Earth, but was hovering right above Earth, maybe six or seven feet off of the ground.  In fact, we realized once the UFO was shown to us that we were standing nearly underneath it.  Once the machine was shown to us, an ultra-violet beam came from out of the bottom of the ship.  We didn't know what to expect, so naturally we tried to run from it.  We couldn't though, because out bodies had become frozen, locked in place.  We couldn't move our arms or our legs.  We couldn't even move our jaws to talk to one another.  We were levitated into the air and all Deedee and I could do was stare at each other in our freeze framed bodies.  We were like helpless victims of prey.  We kept levitating until eventually a door opened in the belly of the ship and we were brought through.  
On the other side were creatures unlike anything we've ever seen.  They were aliens, but they weren't your typical portrayal of aliens, with grey or green bodies and bulging bug eyes.  They didn't even wear the typical space suits either.  They were beings of a many different colors.  Some were purple and blue.  Others were a reddish hue with tinted silver eyes.  There were some who had the same flesh tone as humans.  There were tall slender ones and short squat ones.  Some of them had wings to fly and some of them did not.  They could speak every language and some of them spoke other-worldly languages.  Once we were in the ship, we were strapped to chairs and each of us was given an escort.  They pushed us in these wheel carts.  They weren't cages.  The best way I can describe them is to say they were like wheelchairs, but more like strollers for adults because we were strapped in.  
The one who we saw first was a white color.  It sparkled like a diamond in the sun.  He simply told us that "HE" wished to see us but at this point we didn't know who "He" was.  Our escorts just kept on pushing us around a twisting maze of corridors.  The machine was certainly much bigger than what we saw from the outside.  We were taken to a room where both the sparkly being and our escorts left after unstrapping us from our seats.  There was a white metallic chair suspended in mid-air, facing away from us.  It turned around slowly and as it did the shocking truth is that the one who sat in the chair was Jesus.  The irony of it all is that he was in his mortal form, in the same attire that you would picture him wearing in Biblical times.  He said he chose to reveal himself to us like this, because his true radiant form would be too much for us to take in.  It would probably be enough to drive us insane or our eyes would burn up in our skulls.  He chose the most familiar form that we knew him in to show himself to us.  He told us that he takes many different forms, though, and appears to people in whatever form makes sense to their mind.  He obviously knows this, because he is the savior of the world and is 1/3 of the Holy Trinity.  
We were awestruck at what we had seen and he knew we had many questions, so he began by telling us that he is not just the savior of our world, but the savior of all worlds.  He was visiting Earth to see the progress it has made, which he is NOT happy with.  He is honestly beginning to feel like he might have died in vain.  He explained that he currently exists on the planet Saturn, on a different time plain.  Saturn might be here in our solar system, but according to him, it also exists in a separate realm of time altogether.  In this realm of time, he still walks planet Saturn as the savior of the beings that exist on the planet.  This is where he got the ship that allowed him to travel to Earth.  How this all ties into the steel door and the human cave jail cells I'm not sure.  It has something to do with the fact that the entities from Saturn, which is governed by Satan, have come to Earth to perform many ritualistic practices.  I guess the holding cells are where they keep humans unit they are ready for the sacrifice.  The steel door in the cave is where they actually do their sacrificial rituals.  
Before left Jesus got up from his chair, which was the Throne of God and allowed us to sit in it.  It sent a jolt of electricity through our spines and veins.  In that instance we existed as all three parts of God-- the Father, the Sun and the Holy Ghost.  We were in one place, but were at everywhere all at once.  we existed as God.  We were able to see all parts of the universe.  We were able to behold all living entities, even those from parts of space that we couldn't travel to in a life.  We were able to see all knowledge in its physical form.  We were able to see all forms of magic-- every spell, every power, every incantation, every conjuring, every magical ability-- all at once.  The presence of everything that has ever happened and anything that will ever happened was shown to us.  This is what is meant by the Universal Knowledge of God.  It was the ability to see things as a whole and I can assure you that there is more to the big picture than what you think.
We did not leave empty handed.  Jesus called several of the creatures back in and spoke to them in a language that we didn't understand as anything from Earth.  Jesus led the way down an narrow passage to a vault.  From this vault we were given this piece.  This piece is a sacred miracle and it holds the embodiment of Christ.  It's not the Christ that you see in the pictures.  It is the Christ as he actually exists-- as formless, but able to take all forms to become many different saviors.  With this piece he will come to you and co-exist with you.  This will give you the ability to become like a God, just as we became like Gods when we sat in the Throne of God that was in the spaceship that we encountered.  I know it seems weird, but when you get the piece and you are able to see existence as a whole, to understand all knowledge, to know any power and magic, to be able to travel anywhere in existence that you want, to be able to become anything and all things, it will make much more sense.  This piece gives you the ability to become like a God.  It gives you the power of the Universal Christ.  
THIS ITEM HOLDS A GEM THAT IS RED IN COLOR BECAUSE IT HAS BEEN MADE BY THE INFUSION OF THE BLOOD OF CHRIST.  THE BAND IS DONE IN 10 KARAT GOLD, MARKED WITH A "KP".   I DID RESEARCH ON THIS AND THIS MEANS THAT THIS RING IS BETTER THAN THOSE MARKED WITH A K OR kt, BECAUSE KP MEANS KARAT PLUM, WHICH MEANS YOU ARE GUARANTEED THE FULL 10 KARAT WEIGHT.  THE K OR kt INSIGNIA MUST ONLY HOLD 9.5 KARAT BY LEGALITY.  BASICALLY, THIS PIECE IS SUPER VALUABLE AND EXTREMELY POWERFUL!!! IT WAS MADE BY THE HANDS OF THE UNIVERSAL CHRIST THROUGH THE INFUSION OF HIS OWN BLOOD.