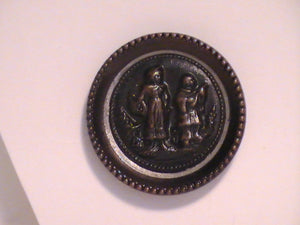 THE HIDDEN DEPARTMENT OF NOTIONS-- HAPPY WIFE, HAPPY LIFE
Regular price
Sale price
$50.00
---
Now just like today and in the age of reason people have all different beliefs. Some are into Wicca some are Christian and many others are all different things. Basically it was just like today but things were kept much, much quieter.

On a little known alley way in the deep in NYC the practice of the occult was in high practice. The things we don't know today were not forgotten to one lost family. This family worked around the clock for those like them, those into the paranormal and the occult. Their last name was Smith. Yes it is a common name but what they did was anything but common.

Inside the shop which seemed to appear only at the beginning of dusk you could find all sorts of things,related to sewing. While many people found their way in some found exactly what they were looking for, those in the know. A special code word was used to open up the back room which was filled with flying silver fish. At least that is how people described the spirits that resided there. Opening the door was like walking into a room where silver glitter was thrown into the air. That is how many spirits filled that room. The other thing that filled that room was tons and tons of buttons. Each one was designed for beauty, creativity and supreme power. They were also created so no one would notice them other then to say how original. They were not jewelry that could be stolen and could be worn anywhere, on a coat, on the inside of a jacket or just carried around.

Here you will find many of the ones my grandmother collected. Below you will find the description and what they do. They are extremely powerful in what they do that is why each of them only hold one power. Again, below you will find a description of what they do. Some of them look exactly the same and are listed with a multiple quantity, but may be different is size or color. This is because they hold the exact same power. If there multiples you will receive the one that we pick out for you.

WOMEN ARE DELICATE CREATURES.  THEY ARE LIKE FLOWERS WITH TEETH.  THEY ARE PRETTY TO LOOK AT, BUT WHEN YOU GET TO CLOSE OR PISS THEM OFF THEY BITE.  THEY ARE STILL PRETTY, BUT THIS BITE REALLY HURTS AND IT COMES WHEN YOU ARE LEAST EXPECTING IT.   ON THIS BUTTON YOU WILL SEE A MAN TURNED AWAY FROM HIS WIFE, BEGGING WHATEVER GOD HE BELIEVES IN FOR PEACE, BECAUSE HE KNOWS THAT HIS WIFE IS PISSED OFF.  HAS HE DONE SOMETHING TO BRING THIS ON?  WHO KNOWS.  CHANCES ARE THAT WHAT HE DID WAS NOT AGREE WITH HER WHEN SHE WANTED TO DO SOMETHING HE DIDN'T AGREE WITH.  THEN, YOU KNOW HOW THE REST GOES.  WOMEN DEFINITELY SPEAK IN A DIFFERENT LANGUAGE THAT ONLY OTHER WOMEN-- AND SOME GAYS-- CAN UNDERSTAND.  WHAT THIS PIECE DOES IS GIVE YOU A PSYCHIC BOND TO YOUR WIFE, SO THAT WAY YOU WILL SECRETLY UNDERSTAND WHAT IS GOING ON INSIDE THE BRAIN OF HERS.  YOU WILL BE ABLE TO AVOID ARGUMENTS BY KNOWING HOW TO ACT AND WHEN TO ACT.  TRUST ME WHEN THEY SAY THE SAYING IS TRUE:  A HAPPY WIFE IS A HAPPY LIFE.