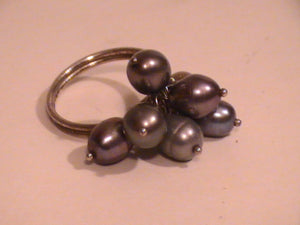 Seven Whistlers, Harbingers of Death
Regular price
Sale price
$180.00
---
The biggest unknown in life is the future.  Most normal people see into their future to know what is going to happen to them even five minutes from now.  It's very true, honestly.  I could keel over dead before I'm even finished writing this description.  You just never know.  
In the mid-19th Century, there was a phenomenon that occurred that led people to be wary.   The existence of a group of birds that were called the "Whistlers" began to take foot.  The presence of these birds was considered a bad omen.  If you were out and you heard the whistling of this group of seven birds as they flew buy, you could fear that death was imminent.  The only saving grace that was had is if you quick ran home, away from work, to take shelter.  Then maybe death would spare you.
In all actuality, the seven birds that people claimed to be the harbingers of death, that they heard whistling in the sky, were not demons.  On the contrary, they were seven angels of death that God sent out to warn his people that if they didn't stop doing what they were doing or start doing what they were supposed to be doing, that death was imminent.  In a way it was God's way of sending them a second chance, which if you ask me is pretty cool.  
SO, you might be asking... where am I going with this?  Well the presence of the seven whistlers, over time, has diminished.  This is because the world is going astray and by astray I mean to Hell in a hand basket.  Collectively, they are turning away from Him, so he stopped sending these harbingers, except for on rare occasion.  They were spotted in the sky just minutes before the September 2001 attacks on New York City.  It was one rare occasion when we encountered the presence of the seven whistlers, not too long ago actually when we were on investigation.  
The harbingers were not meant for us and it was just by chance that we encountered them at all.  However, Deedee was able to recognize the angels, because they were emitting such a high frequency of energy.  She quick grabbed this item and we conjured the seven harbingers of death into this piece.  An imprint of each of the seven angels of death have been placed into this piece.  It is not the actual angels themselves, but their energy, like metaphysical chemtrails that they left in the atmosphere.  
What this piece does for you is shows you the future.  Each of the "seeds" on this ring represent one of the harbingers.  When you wear this piece it will give you 100% white light protection.  It will protect you from all things physical and metaphysical.  It will show you when you are in imminent danger and how your immediately actions will impact your life.  This is not the only thing that they can do though.  They can show you your entire future, because this is naturally just what they do.  You can see into your future to see what is in store for you.  If you don't like what you see, you can ask the seven whistlers to use their powers of destiny to change it.  Once you gain this piece and you are able to summon the presence of the seven angels, you can pretty much ask for anything to be added to your destiny.  Wealth, love, beauty, protections, whatever you want.  They will instill those powers that you ask for into your life.