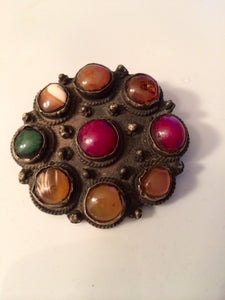 Case File: The Real Vril
Regular price
Sale price
$250.88
---
I'm a literature fanatic.  I mean, I love to read just about anything I can get my hands on as long as it has substance and a meaning.  My favorite, however, is when things that are written into books that are "supposed to be fiction" come true.  Take for instance, the story 1984 by George Orwell.  I challenge each and every one of you to read that book and see if the contents don't make perfect sense in today's society.  They have supplies that are being rationed by the government on purpose, televisions and phones that spy on them, force-fed propaganda, and a government that controls everything, arresting those who don't conform to their specific rules.  

Such is the case with the author Edward Bulwer-Lytton, who wrote a book called Vril: The Power of the Coming Race.  It profiles a race of beings that have discovered the power of the energy form Vril, transforming them into a powerful race of individuals that have took to a network of tunnels and underground establishments and lairs.  It is here that these beings stored up their fictional power, but there is more in the pages of this novel than fiction.  It is actually an account of events that are based on a real story.

I know this may sound like a loony account of some fiction-gone-real enthusiast who wants so badly to live his deepest fantasy stories.  It's not though.  Using my piece I was subjected to an astral travel in which I was pulled into a chamber by the spirit of the deceased Edward Bulwer-Lytton.  As you know, each time I use the piece it takes me to a new place of its own choosing.  Rather, I should say it is under the persuasion of a spirit of the dead who wants or needs my attention.  This is how I came into contact with Edward to begin with, he had a message to share-- that his novel wasn't entirely science-fiction.  

When I first arrived in the chamber in my astral travel, it was very dimly lit in comparison to the meditation room which I had just left.  It was illuminated by floating yellow orbs that hung in midair about every 10 yards of the way.  They burst forth with a light and an energy that radiated throughout the chamber pointed me down a long corridor and into the next chamber.  

In the next chamber there was a large orb of light in the center of the room, in an oblong shape about ten feet high and four feet wide.  It was illuminated by a fluorescent purple color and made a small whirring sound.  The entity that was Edward Bulwer-Lytton was standing in the corned beckoning my arrival.  He appeared less like he would in person and more stately and slender, as if he had undergone some sort of transformation himself.  He explained that the purple glow energy was the brain of the race of the people who have learned to cultivate the power known asVril.  They call themselves Vrilians and live together in a network of underground establishments in peace and contentment.  It is a higher existence parallel to the enlightened state of the Atlantis Temple Priests.  

Together, with the resurrected Lytton, I was able to use the energy pool to make this item.  The power in the item will summon the spirit form of Edward Bulwer-Lytton as your own guide into the development of own Vril transformation.  This item is packed with the power of the Vril agent, it will react with your DNA sequence to make you part of the Master Race.  Your Crown Chakra will be opened and full psychic ability will be relinquished to you.  It will be as if the veil has been lifted from your eyes and you will be able to see clearly for the first time-- to experience your true form for the first time ever.  Of course, you will still have Lytton, resurrected, as your personal psychic and metaphysical coach to unlock your own full powers of Vril. 
THIS PIECE IS VERY OLD,AN ANTIQUE. IF YOU ONLY WANT MODERN THINGS THEN THIS IS NOT FOR YOU. ALL THE STONES ON THIS HAVE BEEN PLACED AT SOME POINT IN EVERY MAJOR POWER PLACE IN THE WORLD AND ALL LEY LINES AS WELL. SO WE ARE TALKING THE THOUGHTS OF EDEN,THE CAVE OF TREASURES,PYRAMIDS,ALL OF THEM,VORTEX'S,ETC. THE METAL IS FROM UNDERWATER AGAIN NEAR A LEY LINE AND ATLANTIS AND THEN ALL OF THE OTHER STUFF WAS PLACED INTO IT. THIS IS ONE HECK OF A MULTI PIECE!