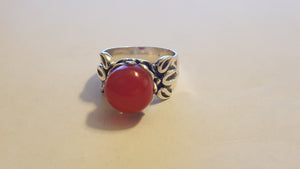 Ruler Over 72
Regular price
Sale price
$272.00
---
This ring was recovered from a ritual cave in Ohio, outside of Cincinnati.  Don't ask what we were doing there.  Typically we hate Ohio, but when somebody calls for an investigation, we are pretty much willing to go anywhere.  The investigation turned out to be a total hoax, but we're glad we went or we never would have found out about the red soldier.  The red soldier is the name of an apparition that appears near the cave where we followed him.  He rides on a red horse who he calls "Many."  This is open for interpretation, although we believe his horse's name is many because of the many different realms that the red soldier has been to using the red horse.
After following the red soldier, we realized that he was trotting of on his red horse to some cave.  He entered the cave, but when we went to confront the soldier, he was nowhere to be found.  In his place was this ring, which holds quite a bit of energy if I may say so myself.  What I mean is that you can feel him in this piece as soon as you get it.  Wear it as close to your body as possible.  The energy radiates.  
Either way, we f
ound
 out that this rider in red is not a human at all.  Well, we knew this from the beginning, we just never fully understood WHAT he was.  The red rider is a 
Berith
, the Great Duke of Hell who governs 26 legions.  He is known by some as a good demon because he went rogue a while ago.  His 26 legions went with him.  I'm not saying that these are "white light" demons, because there are no such things.  What I'm saying is that they are dual in power and 
Berith
 is their leader, so he holds the knowledge of all of his minions.  
This piece was fabricated by some pretty powerful magicians.  The reason I say this is because in order to summon 
Berith
, a piece is needed that is created with his specific seal.  This is not a physical seal, but a spiritual one.  It is a spiritual seal that releases the powers of 
Berith
 to you, giving you all of them-- and this is a big deal.  Why? Because as a Duke, 
Berith
 is the commander of 72 very powerful forms of dual magic.  He commands each of them, because he was birthed each of them.  Any of the members of his 26 legions bear any single power of 
Berith
, but only he has the knowledge of all 72, without having to collect 72 demons.  
To summon 
Berith
, all you have to do is wear the item.  There are no rituals that have to be done.  You just need to wear the item and be sincere in wanting to conjure the demon for his power.  Remember, he is not a demon in terms of how we normally understand demons.  Rather he is of dual magic and power.  He appears to people to help them, not impede them.  The following are some of the powers that you can ask of 
Berith
 when you wear your piece and he shows himself to you.  You will get the rest of the list when you order the piece...  
1.)  Love
2.)  Wealth
3.)  Palmistry
4.)  Tarot Card Reading
5.)  Crystal Ball Gazing
6.)  Flame reading 
7.)  Elemental Magic
8.)  Ability to raise the dead
9.)  Ability to see inside the pyramids 
10.) Ability to cast spells
11.) Ability to throw curses
12.) Ability of birthing entities
13.) Temporary vampire transformation
14.) Temporary demon transformation
15.) Temporary angelic transformation
16.) Temporary werewolf 
transformation
17.) Summoning a faerie
18.) Summoning a leprechaun
19.) Summoning a unicorn
20.) summoning a witch
21.) summoning a vampire
22.) summoning a demon 
23.) summoning an angel
24.) Summoning a werewolf
25.) White light transformation