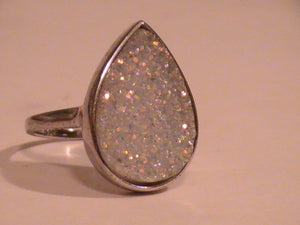 Tears of Moroni, the Commanding Voice of God
Regular price
Sale price
$277.77
---
The Angel Moroni the angel that visited Joseph Smith.  The angel gave him visions and was the guardian of the golden plates, which are the source material for the Book of Mormon.  The Book of Mormon expands upon the Bible to give the Church of Jesus Christ of Latter Day Saints scriptures on which to live their life.  If they abide by these teachings, they will join God in paradise at the end of their days.  Joseph Smith was not the only one to witness the vision of the Angel Moroni, as there were three others who have come forward to say they saw Moroni in 1829 as did several other witnesses who each say they had visions with varying dates.  
Moroni is the great prophet-warrior who was the last to write GOd's will on the golden plates.  Moroni buried them before he died after a great battle between two pre-Columbian civilizations.  After he died, he became and angel who was tasked with guarding the golden plates, until Smith arrived in America in the 1820s.  Smith returned the golden plates to Moroni after they were translated.  As of 1838, Moroni is still believed to be in possession of these plates, guarding them in the astral realms for eternity.  
This does not mean that he can't make appearances to the people on Earth.  For instance, when we summoned him, he came forth as an immense white light being.  His presence filled the room, as we were evnveloped within.  As Moroni cast his presence upon us we could feel is pain and anguish for a world that has been driven away from God and the rightful powers that were due to us as the human heirs to God's worldy throne.  
By saying throne, I don't mean that we are to sit upon a chair.  What I mean is a collection of white light powers that humans were to received from God.  This was all ruined when Adam and Eve cast us all into iniquity.  As a human race, we have just gotten further and further away from God, instead of closer and closer as we should have.  We all have an inner DNA that can be awakened that will manifest our physical bodies as gods on Earth, but we are not close enough to GOd to understand how to use these powers, so he hides them from us.  
This piece was made by the tears of Moroni when he cried for humanist.  It was cutdown into this tear drop shaped and set into this sterling silver ring.  It doesn't fit like a glove, but it is almost perfect.  With this piece, you gain a connection to God like an umbilical chord along which he will feed you his white light sustenance.  This is the stuff that keeps the world going.  It's the energy of the life.  This is what you are fed, so that way you can have a closer relationship with God.  Through this awakening, you will be transformed from your current form into the form you would take if your God DNA were awakened.  
The change is incredible, because you won't have to ask anybody for powers or abilities.  The Voice of God is authority over all things.  From now on when you speak, you speak with the authority.  You have the ability to speak wealth powers into existence, or to tell demons to flee.  You can the ability to speak destiny into effect or you speak objects out of existence.  The choice is yours, just know that with this piece you are always speaking with the authority of God.  No righteous person, power, or entity can disobey.  The world is at your fingertips!!