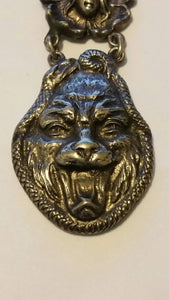 FENRIR: KEEPER OF KNOWLEDGE, MESSENGER OF THE GODS
Regular price
Sale price
$600.00
---
In the Norse Version of life, Fenrir is a monstrous wolf with incredible power.  He is a a beast that has been instilled with a certain trust that allows him to know ALL course of Nordic magic.   He knows all of the sorcerer's magic and all of their alchemy and all of the God's magic, and even has made a lot of his own.  He is the son of Loki and is the one who is eventually slotted to use his magic and magnificent force to kill Odin during Ragnorak.  Supposedly he will, at this point, be slayed by Odin's son, Vidar.  In the meantime, in an act of both fear and jealousy, the other God's bound him by a magic spell of Jormungandr whereby, the all-knowing snake that surrounds the entire Earth has sent one of his offspring to cover the head of Fenrir to keep his knowledge and power at bay. Thus far, it has worked.  His power has been suppressed and will be until the final battle when we see how things will actually play out. 

In the meantime, we have this piece.  It was made by a Nordic sorcerer who specializes in dual magic, meaning he doesn't do only white magic and he doesn't do only black magic.  He does both.  As if you didn't already know, it takes a balance of dark and light to balance and sustain life.  Fenrir has been given the secrets to ALL power and magic, not just the white fluffy stuff and not just the dark mysterious stuff.  His knowledge is universal and encompassing the world of magic in its entirety.  It embodies the world of prophecy in its entirety.  This is what we are offering you... all the knowledge of the Fenrir who knows all things, whose knowledge has otherwise been bound and suppressed. 
This knowledge, and Fenrir, comes to you by the means of two Valkyries, or messenger fairies.  They are also the fairies that carry the souls of the dead to Valhalla.  Either way, these Valkyries are serving as messenger spirits to bring the presence of Fenrir to you, once you obtain your piece.  Fenrir will appear in his wolf form, with a serpent that encircles his head, much like the piece you are getting depicts.  This serpent binds Fenrir from being able to relinquish his magic, but this piece has been given a special spell that will allow him to make a telepathic connection to you, through which he is going to "beam" all of his intelligence over to you including his knowledge of all types of magic and of the many different prophecies he has been entrusted with.  Along with this piece you will also gain his divine protection over any bad or negative influences that try to overtake you, or anybody who tries to steal this information from you as when you are the owner of this piece, then this magic is meant for you and you alone.  It is a very powerful, sacred knowledge that you are receiving and it is magic that encompasses pretty much any power, ability, magical trait, etc. that you want to gain.  It also gives you the prophecies for the end of times, which are somehow tied into all of the other ones including the ones found in the Bible and the Koran.  It's a very enlightening piece, make sure that if you want it, you take advantage right away, as this piece is the only one of its kind available.
AGAIN, I'D LIKE TO JUST ADD THAT THIS PIECE IS EXTREMELY VALUABLE.  NOT ONLY IS IT REALLY HEAVY STERLING, BUT THE MAGIC IN THIS PIECE IS OUT OF THIS WORLD, UNLIKE AN NORSE MAGIC YOU'VE EVER EXPERIENCED BEFORE!!