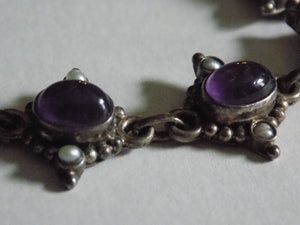 Conscious Communion With the Divine
Regular price
Sale price
$277.77
---
THIS ITEM IS A STERLING SILVER BRACELET WITH PURPLE AMETHYSTS
It seems as though, when we think about Moses and all that he has done for us, we have got it all wrong.  The human mind, in its current form, is not capable of higher thought and higher meaning.  If you have some sort of magical transformation, then this does not apply to, but generally speaking the human mind is very dull.  This is because no longer do they hold the communion with the divine that is necessary to help them unlock the powers that are truly theirs for the taking.  They are the power that we are born with, that through Adam and Eve's fall from grace have disappeared to us.  
Despite what they Bible may or may not say, Moses was an Egyptian prince.  This much is known.  It has been recorded by history.  In the Bible, it even says that he was found by a princess in the River Nile.  She adopted him, so naturally this made him royalty.  This afforded Moses the ability to partake in the Egyptian Mystery Schools.  This is where Moses gained most of his knowledge about the esoteric properties that the divine had to offer.  When Moses renounced his loyalty to the Egyptian crown, he was cast into exile.  
While in exile Moses met a wiseman named Jethro.  Jethro was a high priest from Ethiopia.  He taught Moses many esoteric truths and even initiated Moses into the ranks of the the high priests after he married Jethro's daughter.  This is the second wave of Moses' spiritual teachings.  When he was done with this, Moses returned to lead the Hebrews out of slavery in Egypt.  Eventually he was successful in doing so.  
While traveling, Moses did his best to teach his people the depth of religion and the importance of pious spirituality.  In doing this, constant communication with God was necessary.  At one point, God appeared to Moses through the presence of a burning bush.  Of course, this was a euphemism for the fact that Moses was not going to be consumed by the fires of the afterlife, because he was close to God.  He had become like a god on Earth, relinquishing the abilities we were all born with.  He did this through a conscious communion with the divine.  To accomplish this, the pomp and circumstance of worship needed to go away.
He once went up a mountain to hold communion with the divine and came back down with a list of Ten Commandments.  The commandments were given Moses by God and Moses knew that it was the presence of the true God, because these commandments are the same ones that were taught to him in the Egyptian Mystery Schools.  He was given a vision to work fervently for the betterment of mankind.  
The point is, through all of his instruction Moses had found a way to become extremely close to Moses and God worked through him to exemplify His power.  Whether it was using his staff, made from wood of the Garden of Eden, to cause the Seven Plagues, or it was the power Moses had to spring forth water from barren land, the powers of God were present in all that Moses did.  His communion with the divine, which is how he awakened all of his powers, is what is being offered in this piece.  It is what Moses attempted to teach his followers all his life.  Those who listened were afforded the same kinds of powers as Moses, like his siblings Aaron and Miriam, and the people he appointed as high priests of the Temple.  Those who didn't get it struggled and were at the mercy of those who did. 
This piece has been made using the staff of Moses, which was buried with him in his sepulcher.  The whereabouts of this sepulcher are supposedly unknown, but there are those among us who have been gifted to know.  This piece has been taken to the sepulcher of Moses, whereby it has received the powers of his rod.  This gives the person who wears this piece the ability to hold uninterrupted, unadulterated, pure conscious communion with the divine-- the divine being God.  This opens up a strand of DNA that God intended to all humans.
When you get this piece, you will be given the ability hold your holy communion.  During this communion God will come to you, appearing faceless and larger than life.  He will speak to you, but his voice will sound like thunder.  This is why this piece is necessary, because it will allow your conscious to receive his communication.  This will enliven and awaken a godlike DNA that exists in your subconscious mind.  This will open up a ton of power and abilities to you that you would not have known about before.  These powers include a ton of powers but some of the basic ones are the ability to see into the cosmic conscious, the ability to transform into any organic object, the ability to travel to Heaven at your own free will, the ability summon angels, the ability to destroy and vanquish evil, the ability to bilocate to be in more than one place at a time, the ability to enter the Garden of Eden as it now exists, the ability to speak  with the authority of God, etc.  
This piece is extremely powerful.  You don't want to miss out on this one!