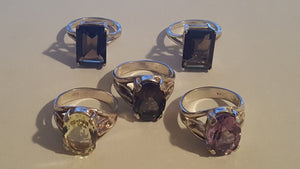 Hephaestus Djinn
Regular price
Sale price
$155.00
---
THESE PIECES ARE STERLING SILVER WITH AUTHENTIC STONES.  THERE ARE FIVE OF THEM, YOU WILL GET THE ONE WE SEND YOU.
Sometimes in life it feel like you're down and out.  You can't get a leg up.  You're up the creek without a paddle.  I think you get what I am trying to say, right?  Well, if this has been you lately and you're sick and tired of things not going your way, then I have the answer for you.  In fact, we have several of these items.  These will go on a first-come, first-served basis.  I'm pretty sure that they will sell fast, so if you are seeing this listing and there is still a quantity left, you better get yours before they are all gone!!  You don't want to mess around with your chance on these amazing items.  
These items have been crafted using the powers of Hephaestus.  When you think about fire, it's a force of nature that is very destructive, it can destroy.  However, think of all the good things it can do.  It can cook your food.  It can heat your home.  It can make things hot enough to be able to fashion them into to other things like iron into weapons.  Or, if you are a god and you have been born with the power to control fire and flame, you can use it to birth djinn.  When you are a god of unlimited power, the god over fire, creating djinn is easy.  This is why we have several of these items.  They all contain a separate djinn.  These djinn were birthed of the fire that was kept in the Temple of Hephaestus.  His fire was so powerful that it was used to craft all of the Gods weapons-- the helmet of Hermes, the Thunderbolt of Zeus (which was actually a crafted weapon), the trident of Poseidon, and the bow and arrow of Eros (who is also known as Cupid).
If that much power can be put into the weapons of the divine, imagine how much power the djinn carry.  In fact, the djinn in each one of these pieces carries a very powerful ability and that is the power of unlimited wishes.  It doesn't matter what it is that you are wishing for, this piece will grant it.  It's that simple.  Like I said, this piece is for those who are down on luck.  You can wish away all the bad thing in your life.   Is your cashflow depleted?  Wish for money.  Does your love life suck? Wish for love!   Do you spend hours at night staring up at the sky wishing that you would know the truths that lie among the stars?  Wish for divine wisdom an astral travel!  Do you miss someone dearly?  Wish for them to summoned to you in spirit form!   Feeling vulnerable?  Wish for protection!!  The possibilities are limitless, with the omnipotent djinn.  
You can use this piece for an unlimited amount of wishes, but before you use your piece, you must give your djinn a name.  It does not have one yet, because we wanted them to be personal to you.  Again, we have a limited quantity of these items, so you want to make sure that you are getting your pieces ordered!!