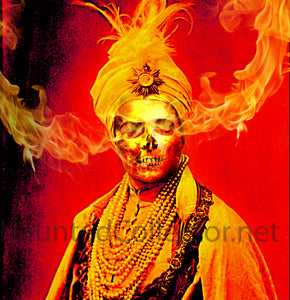 YOUR OWN PERSONAL BIRTH DJINN -- SDH
Regular price
Sale price
$1,000.00
---
Okay, guys.  If you are receiving this message, it is because I know how beneficial this piece is going to be for you.  In fact, it's beneficial to everyone, but I wanted to offer it to only our best customers first.  It is a Haunted Curiosities Exclusive and the power to create these pieces has only been given to one person... that person is Deedee.  It has something to do with the fact that she is part Native American and the fact that she is the seventh child of the seventh child.  This is also why her psychic powers are so strong and why they continue to grow. 
We first learned of the many different dimensions of the soul while attending a Native American pow-wow is South Dakota, while we were on an investigation.  We were taken to the chief and since she had such a percentage (I forget honestly) of Native blood in her, she was allowed to attend what is called the Ritual Dance of Souls.  She was also allowed to bring one other person with her, which worked out good because I was the only other person on this particular investigation.  
During the Dance of Souls, we learned that there are actually twelve different dimensions of the souls.  Some of these dimension are the dimension of souls past, the dimension of future souls, the dimension of alternate souls, the dimension of the lost soul.... the list goes on.  I forget the rest of them, but that is okay, because it's not the important part of my message.  We did get to travel through all the dimensions of the soul, and it was quite a sight to see.  It was the best Native retreat that I have ever been to... even better than the ones in Pennsylvania.    
The important thing to know is that every person is born with what is called their personal djinn.  This person djinn is not malevolent like some of the ones that are born of fire can be.  In fact, this djinn is born of white light, just like your actual soul has been born.  It is your own personal djinn and can ONLY communicate with you because it is yours.  If it is your own person djinn why can't you communicate with it?  This is an excellent question and one that we asked the Natives ourselves.  
Through the separation of the world, different cultures have emerged.  We are different nations, we speak different languages and we have different religions.  The creation of our differences drove our similarity-- the fact that we are all born with this personal djinn-- away.  We became less spiritual as people of the Earth.   We became divided.  Nowadays, the only folks who can their personal djinn are those who have become truly enlightened enough to be able to communicate with them.  This process is so involved that your body is in such a state of enlightenment that it doesn't even need food anymore!!  You barely need oxygen to survive. Scientists can't even explain it.  It is the same type of enlightenment that allows Buddhist monks to be found fully preserved thousands of years later.  
There is ONE saving grace.  During our trip to the Native Retreat, Deedee was given a power that no other mortal before her has been given and that no other ordinary mortal can easily obtain.  This power is to be able to pull your own person djinn out of you and bind it to an item.  This was given to her because of her astounding psychic abilities.  It's literally a once in a lifetime, once in a generation thing, only once in the history of the world kind of power!  Even the chiefs who attended retreat were shocked that this ability had been bestowed upon her.  
For those of you who are afraid of djinn, you don't have to be afraid of this one.  It is part of your soul and lives in one of the dimensions.  It already lives inside of you.  It's just how this personal djinn works, it was innately built into all of us.  It our own person djinn.  We WANT you to have one of these items.  We believe that EVERYBODY NEEDS of these items.  Since Deedee has been given this gift 14 months ago, we have been making and testing these pieces for family and friends only.  Last week we just made five of these pieces and all of the people we made them for were absolutely astonished that they had this potential, but had been living without it.  
Your personal djinn is nothing short of amazing.  It can grant anything that you want-- ANYTHING AT ALL!  When you order this piece, we will need your name and birth date.  Deedee will contact the person djinn within you.  It will be then bound to a piece that will shipped to you.  You only have to wear the piece for the first seven days.  After that there will be a genetic code shared between the two of you that will allow you to access your djinn without having to always have the item with you.  The connection between you and your djinn, once it is pulled out of you, is inseparable.  The powers that this djinn will bring you are phenomenal.  This is because it grants anything that you ask for.  It doesn't matter whether it is wealth that you ask for, or the magic of the sacred geometry of souls upon which the twelve dimensions of the soul have been built.  I mean, you probably already knew that there was something special about the number 12!  

What ever you can think up or dream up in you mind, this djinn can make happen.  Don't be shy when using this piece.  Remember, this djinn was once a part of you and is now bound to this post to serve YOU!  We know that all people should have one of these, but we will only be making these for a limited time.  This is why you are receiving this email, because we wanted to give you this EXCLUSIVE OFFER!  Trust me, this is not something you want to turn down!!  The power is very real.  It will take you to the next level that you have been craving and longing for.  YOU NEED THIS PIECE!!
This piece will cost you $1000.00, but that is a very small price to pay for what it can do for you.  This is your once in a lifetime opportunity to control everything that you've always wanted-- to give yourself love, luxury. wealth, success, fame, power, magic, and everything else you've always wanted.  Deedee is the only person on EARTH that can make these items for you, so again this is your once in a lifetime opportunity to take control of what is yours and to own your own destiny the way it was meant to be.  We are doing this, because we know that once you have your piece, your life will NEVER be the same.  We know we could be charging way more for this piece.  It is taking up a lot of our time--a lot of Deedee's time, my time, Tomer's time, and Daisy's time-- but we are willing to do that because we want you guys to change your life, to live a life of sheer happiness, blissfulness, and joy.  We want to see you get everything you've ever wanted and more, which is what this piece does for you.  We want to give everybody an opportunity to get this item!!
As these pieces are all custom made, you can choose from between a ring, a pendant, or a necklace. What you get will be sterling.  If you are opting for a ring, we are going to also need your ring size and to know whether it is for a man or a woman.  We ship these pieces on a first-come first-served basis, but they are being custom made, so it may take slightly longer than standard shipping time.    
Also, I know people have LOTS of questions, so if there is ANYTHING that I can help you with  EMAIL ME DIRECTLY AT HCSTEVE86@GMAIL.COM.  We have all kinds of oddities, bizarre stuff, haunted stuff, creepy stuff, even stuff you think you wouldn't find anywhere.  We most likely have what you are looking for.  We are currently going through old cases of inventory in our new office and we have come across some pretty unique stuff, which we will be listing.  However, if you have any type of specific need, email me and I can find it for you!!