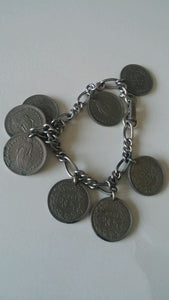 ALL IRELAND'S WEALTH
Regular price
Sale price
$188.99
---
Sometimes you feel like a nut.  Sometimes you don't.  Remember that old song?  Well, the entities that are channeled into these pieces always feel like nuts and they have no shame in showing it either.  Then again, when you're always drunk there's not too much to care about, either.  However, these tiny little creatures take to their jobs very seriously. You can think of them as what a psychologist would refer to as a functioning alcoholic.  It must be because they are purebred Irish and the Irish love their alcohol.... believe that.  It's nothing to see a teenager drinking shandy in the beer gardens, even though the technical drinking age in Ireland is 18.  They don't really care. 

The little creatures that inhabit these pieces are ones that are constantly overlooked in the world of the occult.  In my opinion their magic is as powerful, if not more powerful than their wildly popular cousins, the leprechauns.  If you haven't determined it yet, I'm speaking about a little creature called the Clurichaun.  Like I said he is the cousin of the leprechaun and he loves to drink.  Originally, he was used in medieval times to guard the wine cellar against those who may steal your wine.  Wine was a symbol of wealth in those days, so essentially what the clurichaun would do is guard your wealth. 

Today, these creatures (still intoxicated as ever) will bring you an energy that will exert their laid-back lifestyle into your own.  This will give your aura a cleanse and free your spiritual conduits so that way you can receive the white light magic of the clurichaun.  It's not the most powerful white light magic that I've ever seen, but his powers are light, fun, and effective.  There are a number of different white light spells you will while summoning your perosonal clurichaun with one of these...

The meat and potatoes of this piece, however, comes in the fact clurichauns, just like leprechauns, hold extreme wealth power.  It must run in the family.  While there will be no rainbow or pot of gold at the end of said rainbow, this piece is a magnet for wealth.  The Clurichaun that is attached to the piece that you receive (there are multiples so buy up!) will reach across realms to bring you different kinds of wealth.  This isn't one of those pieces that you really get to decide what kind of wealth you want brought to you.  This is because the clurichaun does it all.  They are like little vacuums that will reach out in direct surroundings, on multiple levels of existence to pull you in a mass of wealth powers that will translate into money, success, and fortune in your own life.  The cluichauns have been known to contribute to the billions of dollars of success to people such as Dermot Desmond and Denise O'Brien, to of the top five billionaires in Ireland. 
THE PIECE YOU ARE GETTING IS A BRACELET MADE OUT OF VARIOUS COINS.  THIS IS A STAPLE FOR WEALTH AND THEY HAVE BEEN GIVEN AN ENCHANTMENT THAT WILL BRING YOU WEALTH AS DESCRIBED ABOVE.
SHIPPING IS FREE.  IF YOU ORDER MORE THAN ONE ITEM, LET ME KNOW SO THAT WAY YOUR EXTRA SHIPPING CAN BE REFUNDED.