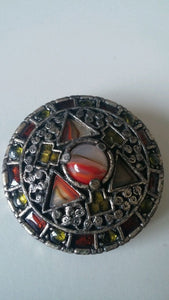 NAZI'S HOLLOW EARTH
Regular price
Sale price
$367.99
---
captured.  And again, I'm not saying it's right, but with that being taken into account the reason they were attempting to create this race is to mimic a race that they had discovered in the Hollow Earth, in two subterranean cities that exist inside the Himalayas known as Shambala and Agharti.  These cities are where the Aryan race-- a group of humanoid E.T.s-- made their home.  It is where the monitor the goings on of Earth in case, for some reason the have to intervene.  Adolf Hitler, a mere mortal man, made discovery of these cities after connecting with the alien race during experiments that he was conducting in the Wewelsburg Castle.  This was a top-secret, ultra-security compound that was the headquarters for paranormal research during the war.  It is where a lot of Hitler's magic was derived, born of the powers he was given the Aryan race he had discovered that live deep within the confines of our very own planet.  The thing of it is, this whole time-- even since ancient Sumerian times-- people have been overly concerned with discovering outward into space. Not once did a person ever thing to look within our own existence. I mean, if you want to hide something from someone, hide it under their nose right.  It's the one place the will not look.  Unless, of course, you are a certified, but wildly crazy, warlord who wants to rid the world of Jesuit control to establish your own world takeover.  Then, you pretty much cover your ass, because if the shit hit the fan, you're going to need a place to crash for awhile.  This is what happened, folks.  Hitler was not captured.  That's a crock.  However, he did slip into existence to this subterranean world-- the hollow earth-- where he was welcomed with open arms simply because of the fact that the Annunaki, the Aryan race the lives there, knew what these Jesuits were up to.  They were trying to control and deplete the world's resources and they still are til this day.  It's all good, though, because Jesus will return soon and somehow the Annunaki are tied into that.  When Jesus does return, it will be a great time. He will do more than turn over tables on these modern day Sadducee's and Pharisees.  He will vanquish them and when he does the New City of Jerusalem will fall to Earth and God's creation cycle will start over.  Until then, just know that the Annunaki still exist in their subterranean world of magic and power.

Again, you don't have to take my word for it at all.  This item, that I have because it was given to me by somebody who wants to remain anonymous, is the truth.  It will allow you to see the world as it really exists, to be able to see the good for good and evil for evil.  You will given the ability to astral travel to the these two subterranean cities, where you will be able to exist in your pure soul form, although it will feel as though you exist in your physical form because you will be able to fully function as if you were actually physically there.  And don't go into this experience thinking that the Aryan race-- the Annunaki are going to have giant bulbous heads with beady little eyes or whatever because they don't.  They look more like humans than you can imagine and more or less resemble angels.  There skin is an almost translucent purplish-blue color and their eyes glow a golden color.  Their skin is cool to the touch and you can see into their brains-- I mean actually watch what they are thinking.  It is how they communicate with one another because they are ultra-sensitive to psychic perception.  With this piece, you will actually get to live as one of the Aryan Race.  You will gain their powers and their understanding of the world.  Their involvement with Christ will be demystified to you, because you will be given divine knowledge as you see into the Aryan Race's brain to uncover their knowledge. 
THE PIECE THAT YOU ARE GETTING IS A PIN, BUT DOESN'T HAVE TO BE WORK AS SUCH TO GET THE FULL POWERS.  IF YOU REALLY WANT TO YOU COULD PUT IT ON A CHAIN OR WHATEVER YOU PREFER.  THE SHIELD IS MEANT RESEMBLE ONE OF THE ANNUNAKI'S ORIGINAL FLYING CRAFT, WITH THREE TRIANGLES THAT REPRESENT THE POWERS OF THE HOLY TRINITY, WHICH IS SOMEHOW TIED UP INTO THE ANNUNAKI'S RETURN ARRIVAL ON EARTH-- THIS PIECE WILL HELP YOU FIGURE ALL THIS STUFF OUT!  
SHIPPING IS FREE.  WHEN ORDERING MORE THAN ONE ITEM LET ME KNOW SO YOUR EXTRA SHIPPING CAN BE REFUNDED.