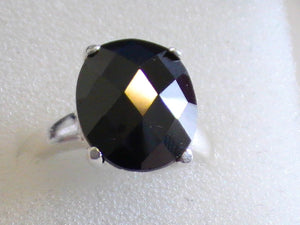 WISE EYES OF AN OWL WITCH
Regular price
Sale price
$177.77
---
An owl's wisdom is timeless and so is the power of a witch's craft.  The magic of witchcraft has been around since before any other major religion of the world.  It
pre
-dates the magic set forth in the Bible, the Torah, or the
Quran
.  It is a very rudimentary magic that uses the forces of nature that are found all around us.   However, it is extremely powerful, due the abundance of nature that exists all around us.  I mean, why fabricate things when we can use magic to manipulate things around us to achieve the results we want.  It's really a simple resolution to magic, which is why I said it is rudimentary.  However, its simplicity doesn't take away from the power that witchcraft boasts.  It is a craft that has been around since the beginning of time and the powers that it holds are archaic and have stood the test of time. 
As with any powers there are a set of primordial and immortal gods from whom powers and abilities are granted.  The craft of the witch is no exception and there are a pantheon of gods and goddesses that must be invoked for the magic and spells to work properly.  This is why it is called a craft, because being able to achieve the desired results takes practice and dedication. You must execute your rituals flawlessly and to the tea for all of the energies to be aligned, the gods and goddesses called elders to approve the magic and the magic to occur.  It might seem like in today's media, some guy with a crooked scar casts a spell with a little wand and
bam
! magic happens.  It's not at all like that.  It takes practice and patience and esoteric transformation of the mind and soul to really understand magic.  It's existence is controlled by the elders. 
The elders manifest themselves in many different ways to enter the realms of the Earth to preside over magic and to keep the magic form becoming to obvious to non-witches.  One of the most common ways for the elders to manifest their presence here on Earth is by the vessel of an owl.  This is why owls are often associated with wisdom and divine qualities.  That's what this piece is.  It is literally the manifestation of witchcraft magic through a ring that is shaped as an owl.  This piece has been divined by a coven of witches that I sometimes seek out for advice concerning all things witchcraft.  They helped me create this piece, which is packed with power and has a ton of potential.   
I'm calling this piece an owl witch.  Although it doesn't hold the presence of any particular witch, it holds the powers of all witches.  With this piece you will be able to leave your astral body behind to travel across the planes to the realm where the Elders.  Once there, you will be able to divine your mind with all the knowledge that witchcraft has to offer.  You will be able to see into the annals of time to see how witchcraft has progressed and to gain all the knowledge and insight of witchcraft and how it has evolved to become the powerful craft that it is today.  This, of course, will allow you to travel back in time to view certain events.  It will also allow you the powers of transmutation, which is a common witch practice to take the form of cats, or wolves, or barn owls like the Elder Witches.  You will given the knowledge of all witchcraft powers including spells, chants, ritual magic, rites of passage magic, moon magic and astrological magic.  You will be given a universal knowledge of the craft as you will literally be transferred into an owl witch and given the freedom to "fly", to obtain enlightenment and to grow your magic to heights that they never would have accomplished on their own by giving you a HUGE powerful boost!  
THE RING THAT HOLDS THESE POWERS IS A STERLING SILVER RING, SIZE 8 WITH A BLACK STONE, WHICH REPRESENTS THE MYSTERIOUS KNOWLEDGE OF THE WISE EYES OF THE OWLS. 
SHIPPING IS FREE.  WHEN ORDERING MORE THAN ONE ITEM, INFORM ME SO YOU CAN BE REFUNDED FOR YOUR EXTRA SHIPPING.