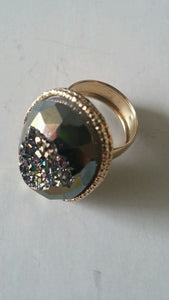 SHAMANIC CAVE OF WHITE LIGHT
Regular price
Sale price
$375.55
---
In the area of the United States of American that we now call Texas, something magical happened in archaic times.  In an area defined by the lower courses of the Pecos and Devil's Rivers and their confluences with the Rio Grande in Southwestern Texas, there are canyons and rock shelters carved into the limestone.  This limestone is the canvas for ancient artists who drew keepsakes of there times upon the rock.  The experts of this area consider the rock art of these areas to be comparable in archaeological significance to sites in Europe, Australia, and Baja, California.  The region boasts more than 250 sites within a 100 square mile zone.  It is one of the most dense concentrations of archaic rock in America and it contains some of the largest multi-colored rock art images in our country as well. 

The particular point of interest that I will be talking about is the cave of the White Shaman.  It was this cave that my friend, Rashonta took me to visit when I visited her in Texas last year while I was on leave from working.  It wasn't part of a particular investigation per se, but my friend knows that I'm into weird stuff like that, so she took me there to show me what the area has to offer.  I took a particular fancy to the area that they call the Cave of the White Shaman, because I felt a very strong psychic connection to the spot.  At the time I was sure why, but I would find out later.  We explored the area in its entirety and later that night I decided to visit the area myself. 

When I first showed up to the Cave of the White Shaman, there was an excitement in the air.  I couldn't wait to figure out what it was the drew me to that one particular area of the whole enormous collage of artwork.  I wanted to hold a one man seance in front of the rock, but to my dismay when I got there, there were other people and I didn't want to intrude upon the normalcy of these people's experience.  I lingered back a bit, but eventually my curiosity got the better of me.  Why would there be another crazy out, like myself, attempting to enjoy artwork in the dark.  That is when I saw the people in clearer view.  They were wearing what appeared to be Native American traditional clothing.  Okay, I though maybe it was a local tribe or something.  Definitely not because what I saw next defied all rationale.  I heard the one person say something to the other, you know, in their language.  Then, as if nothing had ever been there, they tapped a specific part of the rock and walked through.

I rubbed my eyes to see if I had seen this correctly and when I knew that I did, I made my way over to the rock and followed suit.  I knocked on the rock where the previous two had.  At first nothing happened.  Then after the third attempt, I could feel myself being tugged, like a giant vacuum was trying to suck me up.  I was whisked away through a light tunnel and on the other side I was transported to the same place, just many many years ago.  I also found myself in a new set of fresh clothing that was appropriate for the hot summer sun that was beating down on me.  By the river, I noticed one the men I had seen before.  He was standing in the river singing incantations.  I had no idea what the heck he was going on about, but there he was in the middle of the river... singing... like nobody saw him.  He eventually noticed and motioned for me to come to the river to.  In a quick sweeping motion he grabbed me up and dunked my under the water.  When I returned to the surface I was no longer in the alternate time period.  Rather, I was back where I started, but in the same Indian clothes.  In my hand was this piece.  My normal clothes were gone. 

I had a tough time describing to my friend why I had ditched my regular clothes for these ones.  She was convinced that I was nuts and that I was probably out drinking somewhere and entered some Village People's karaoke contest.  I tried to explain to her, but she is a myth buster at heart and wasn't having any of it.  It's all good though, I came back to PA and began testing on this piece immediately.  The piece, I found out, is a piece from the actual White Shaman.  What this means I don't know, because I don't really know who the white Shaman was.  I tried to knock on the rock three or four times again, but it didn't work any of the subsequent times. 

I was able to determine that this item is an all White light awakening piece from the Shaman.  It is a simple, but brilliant piece.  It shines a refreshing white light into your soul, which will give you a complete re-birthing experience when you get your spiritual awakening.  When you do receive your enlightenment you will be pleased to know that you will gain all of the white sorcery of the shaman including white light healing, spells, psychic awakening, and telepathic communication into the spirit realm.  You will also gain the ability of mind control for healing purpose and the ability to create all of your own white light shamanic powers.  As long as the powers are used for white light only, you will able to create them.  It is the ultimate piece for those who only want to do white light magic without the possibility of something going awry.  The reason being is because this piece is held together with white light sustenance and white light protection spell.  However, that doesn't mean it isn't powerful because it is some of the most robust white light sorcery I've encountered in a while.  To really get a feel for this power, you'd really have to wear the item.  Hopefully you'll get this piece before somebody else does!  Enjoy! 
WHEN I WAS WRITING UP THE DESCRIPTION FOR THIS ITEM, I WAS MISTAKEN, BECAUSE THERE AREN'T JUST ONE OF THESE ITEMS.  THERE ARE ACTUALLY TWO!!  WHAT YOU ARE GETTING IS ONE OF THESE TWO BEAUTIFUL DRUZY RINGS, THAT ARE CARVED OPEN AT THE TOP TO DISPLAY THEIR UNIQUE AND GORGEOUS TEXTURE.  THE RINGS ARE SIZE 8, BUT IT THAT DOESN'T FIT YOUR FINGER, YOU CAN ALWAYS WEAR THE ITEM AS A PENDANT ON A CHAIN AND THE POWERS WILL BE JUST AS POTENT. 
SHIPPING IS FREE.  WHEN ORDERING MORE THAN ONE ITEM, PLEASE INFORM ME SO YOU CAN REIMBURSED FOR EXTRA SHIPPING