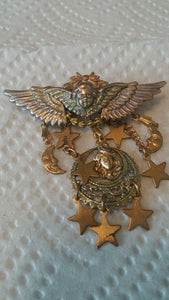 MIND BENDING AND GOD'S MULTIVERSE
Regular price
Sale price
$347.77
---
Many people are up in arms when it comes to what exists in the rest of the universe.  Some people say that God created the Earth in seven days and that this is fact.  They say the world is not billions of years old and that, in fact, the Earth is not too much older than the Bible itself.  Some scientists way that it's ludicrous to think that there is a God that created the whole universe.  They prove, with scientific facts, the Earth is much older than any Christian will ever believe it is. Then there are people like me that ask, "Why can't it be both?"  And the answer then becomes very evident.  It can be. 

The simple answer to this is that time is an artificial thing. God didn't create time, humans did.  Why?  Because they were so concerned with knowing everything rather than just living the life and hand of cards God decided to give us.  Contrarily, Christians want people to believe in God with blind faith and understand that nobody understands why God has done what he's done and that God didn't say anything in His Bible about other forms of existence.  Isn't that kind of contradictory, though?  If we don't understand God, then who is to say that our mind an really comprehend exactly how long God took to build the Earth.  Whose to say a day to God wasn't a billion human years?  We will never know, because we weren't designed to know. 

This piece comes from the Vatican.  I don't know why this power was prescribed to this item.  I mean, it certainly fits the bill visually.  However, the piece seems a little more contemporary than the power and by a little I mean ALOT!!  I can't really tell you how we got the piece for fear of not having a connection anymore should he be found out.  I hope you can appreciate this. 

The truth is that God exists not only as OUR god alone.  His existence and existence as a whole exists i levels of existence.  We are in one level of existence.  There is whol multiverse of existence which the human mind does not understand, because we weren't given the ability to.  He saved this knowledge for his Angels and other heavenly hosts that could conceal the secret until  humankind, and all of his other kind, can be remitted into Heaven, and fully understand the depth of all existence and not just our own. 

This piece is that understanding.  It holds truth and knowledge that has been written in the Book of Life that describes the schematics of intelligent design and how the cycles of existence are written in the stars and planets and the rest of the solar system, which is why he placed them there.  The piece will allow you to leave your body and travel to Heaven in only your soul form.  To give you these powers, you will be sent a single Cherubim, as picture on the piece, who will give you enlightenment and the ability to exist in pure soul form as the angels do.  Once you are existent in soul form, you will be taken through a realm of Heaven where you will be given the knowledge of the many forms of exsitence that supplement our own on the different levels of life that God has created.  Just because he didn't tell us about them doesn't mean they don't exist.  He didn't give us a recipe for chocolate cake, but somehow we figured that out, right?  This piece will give you the white light formula of God, which will allow you bend your mind and travel freely through out God's created Multiverse. 

Using this piece you will travel to many forms of existence and worlds in your soul form where you will visit many different creations of God that you never knew exsited.  They are all white light beings, as that is what he was intended to create.  Of course, there will evil and dark beings along the way, but this is where the second angel on your pin comes into play.  She is a divine protectoress-- a female warrior angel who has been assigned to be your person guardian angel.  She will one day join the ranks of Michael and Gabriel to fight the final battle between good and evil, but then again, you probably will too because this is what's going to happen in the end of times. 

Bottom line:  This piece allows you to bend your mind to travel, in soul form, through God's infinite knowledge and the multiple levels of existence that he has created other than our own, called God's Mutiverse, to discover secrets that are exclusive to the powers in this piece alone. You will receive a soul navigator, your cherubim.  You will receive a guardian angel, your protector.  You will be able to keep, eternally, any and all powers that you pick up along the way and who knows what those will be.  This is a very exciting, eye opening and enlightening piece.  You do not want to let this one go! 

THE PIECE YOU ARE RECEIVING IS THIS PIECE THAT PICTURES THE CHERUBIM YOU ARE RECEIVING, YOUR PROTECTORESS ANGEL, AND THE STARS AND TWO MOONS OF GOD'S MANY LAYERS OF EXISTENCE.  THE CHERUBIM IS SET INTO A WREATH THAT SIGNIFIES THAT YOU WILL NEVER LEAVE THE CIRCLE OF GOD'S PROTECTION AND THE BIG SET OF WINGS ARE THE WINGS YOU ARE RECEIVING THAT WILL ALLOW YOU TO "FLY" THROUGH OTHER FORMS OF EXISTENCE.  IT'S SOME PRETTY POWERFUL MAGIC!