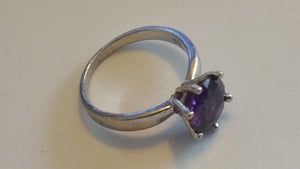 PROJECT INDIGO: DANCE AMONG THE STARS
Regular price
Sale price
$177.77
---
This piece was made by one of the Indigo children.  Indigo children are those who are born with certain supernatural and metaphysical abilities.  They often exhibit some sort of disability in the physical world, such as being mute, Autism, Asperberger's Syndrome or Down's Syndrome.  They don't always, but one thing is for sure, despite what physical or mental ailments these people do or do not have, they excel in the metaphysical and spirit worlds.  Unfortunately, sometimes they don't have the ability to be able to communicate what they are experiencing to the world around them.  Unless, they are the high functioning type, then they are perfectly capable.  Still, most of the don't because they realize that they were born with the special abilities for a reason and if others were meant to have these abilities they would have been born with them.  I mean, it really just depends on the opinion of the individual. 
Remember when we kept telling you that something big was coming in 2012.  When most people were sitting around waiting for the world to end or a meteor to collide with our planet, we were busy researching exactly what was happening for real.  This is the passing of one age into the next.  Gone is the Age of Pisces and here to stay for the next 2,500 years or so.  With the passing of ages, comes the bringing of a different kind of metaphysical awakening.  The human mind was once alive and great, but lately it hasn't been so great.  The Mayans weren't wrong when they said the world was going to be at the helm of a great event with the coming of 2012. We underwent an astrological alignment and the gates to the new age were open.  The New Age children have begun to born and have been being born for about 50 years, in anticipation of the coming of times.  I'm not saying everyone born is a New Ager, or Indigo Child, but they are being born.  
Some of live in secrecy, not sharing their powers at all.  Some of the flaunt it, not realizing that is a sacred power not to be mocked.  Others live in new age spiritualist camps, kind of like Hippie Communes.   This is how we got this item made for use.  We met up with somebody we were put into contact with by one of our workers who is a gypsy witch.  She told us that we should check her out, because she exhibits great powers of the coming age.  Eventually the DNA of every human will be changed into these super-advanced intelligent kinds of beings.  I'm saying they are going to be autistic or mentally disabled, but this is transition phase.  Eventually our race will return to supremacy and our minds of enlightenment will be restored.  Until then, we have to deal with the stupid people-- which might be the cataclysmic events that the Mayans warned us about.  
The Indigo Child that we were put into chose the name Nefertiti and it's obvious where her name choice came from.  We called her Neffie for short.  I'm not sure what her birth name was, because like Lady Gaga, she really refuses to answer to it.  She spends her days catching up on chores and rest of the commune and her nights laying on her back in a field, staring up at the stars.  She has learned a bunch of knowledge in doing this.  She said that the dances that she does in her new age camp are symbolic of the ways the stars dance across the sky at night.  It brings their powers to earth in a materialized form.  This is how she was able to offer us the cosmological healing item that is up for grabs with this description.
With this piece you will experience a true healing.  Your DNA will be mutated into that of one of these Inigo children.  They also preferred to be called New Agers of Star Children.  Occasionally they preferred to be called Hippies, but I don't call them that because most of the hippies back then were stoners.  These people seem to be perpetually high on life and the energies of the universe.  This is how you will be come, in a constant state of bliss and enlightenment.  Your third eye chakra will be open, because you will experience a true chakra and power point alignment, where you will be fully opened up to the knowledge of the universe.  This will give you spiritual healing and clearing of your karma.  In doing this, you will gain good karma, good luck, extreme wealth, and protection from all dark entities, whether spells or beings.  It will allow you to give this same spiritual and karmic cleansing to others and the ability open up their DNA to receive Indigo Child DNA.  It will bring you full psychic ability including the ability to communicate with spirits and beings, the ability to teleport, the ability to read the minds of others, the ability to move things with your mind, and the ability to see into the past and the future.
Additionally this piece allows for astral control.  This allows you to lay in the grass and stare up at the stars.  You can gain the magic of their energies.  But most importantly, you will learn the full power of the astral doors each constellation opens.  You will be able to travel through these astral door-- in your astral form, of course.  Who knows what powers these will bring about, because while we have tested this piece, we haven't visited every area there is to visit, so there are bound to be different powers awaiting your discover.  I mean the transformation would be enough to make me want to keep this piece if it weren't for the fact that we are selling it.  It's truly an awakening and powerful piece.
THE PIECE YOUR GETTING IS A RING, STERLING SILVER, WITH AN AUTHENTIC STONE.