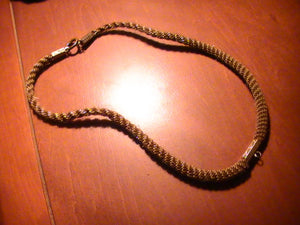 LILIANA'S GIFTS FROM THE HALF ANGELS 2
Regular price
Sale price
$488.88
---
12-2-20
To everyone reading this listing.  We have a bunch of products like this one.  This is an item that may have seen on the website before.  For whatever reason this piece has either gone out for more testing, has been loaned out, or was sent for further research.  All of these items work superbly.  Even if you've seen the listing before, be careful to re-read the listing.  Many of the items will have an update found at the beginning of the listing.  Some of the items are more powerful than we thought they were and some of them have even more powers/abilities than we realized!
UPDATE;  UPDATE:  After further working with this piece we have mined new and exciting magic!!  This is an unbelievable ability!  When you connect to this piece and the powers that are within, you will also be able to see into Heaven.  When meditating with this piece, you will be able to open up the skies.  You will be able to look upon the throne of God, but not his face.  You will see the 24 Elders that around his throne and they will reveal to you their 24 secrets of the End of Times.  You will receive their 24 blessings and you will undergo 24 divine Awakenings.  We cannot reveal these things in the description, because they are personally curtailed to what God has designed for your life.  This means the blessings and the divine awakenings will be custom for your bloodline and divine imprint.  The 24 secrets are the same for all people, we just aren't able to reveal those secrets to the masses.  If you feel compelled to purchase this piece, that means you have been chosen and the secrets were meant to be shown to you.
This is Liliana and here we took two video's. In one she was speaking to the witch of Endor and it did not come out. We are going to tape again using video and a tape recorder. This will be our third try at it. In this video the items did come from the heavens and this is NOT a reenactment. These items come from only white light spirits that Liliana has made contact with. She has been making contact with them for years and they help her and others because of her soul. These are mourning pieces that are well over a 100 years old and they hold the hair of the dead which is why they are so powerful. Another reason for the power is that they are now half angels and work to help humans at a rough time on Earth. They know that times are coming that will be hard for all to deal with and with these pure white light powers they will help see you through. www.hauntedcollector.net www.hauntedcuriosities.com
THIS PIECE IS ALL HUMAN HAIR AND ONE OF THE REASONS IF CAN REMAIN SO POWERFUL. THE ENDS ARE ALL REAL VICTORIAN GOLD. THIS IS A VERY RARE PIECE AND EVEN MORE SO BECAUSE THE YOUNG WOMAN,SARA IS A HALF ANGEL. SHE POSSESSES THE POWERS OF THE POWERS AND IS ABLE TO COME BACK AND COMMUNICATE WITH YOU THE HUMAN UNDEAD BECAUSE SHE HAS PASSED AND IS NOW BOTH. THESE ARE PURE WHITE LIGHT AND GIVE ALL THEY CAN TO YOU WHICH IS EVERYTHING. THESE WILL BE SOME OF YOUR BEST PROTECTION PIECES YOU WILL EVER FIND. THEY WILL ALSO BE THE MOST LOVING AND FELT EVEN FOR THE PERSON WHO CAN FEEL NOTHING. THIS PIECE HOLDS A RELIGIOUS TOKEN ON THE FRONT OF IT,THAT IS NOT IN REAL GOLD. THE TOKEN ON THE FRONT SHOWS A CROSS AND A CROWN AND ON THE BACK IS THE LORDS PRAYER.