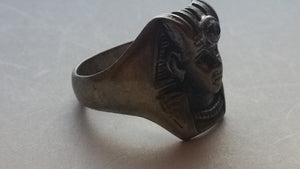 The Forgotten Dynasty
Regular price
Sale price
$850.00
---
This is a piece we got when we were invited to participate in a secret extradition of powers.  This was held in late 2014 and we haven't discussed the details of this journey with anyone yet.  This is why people were emailing us and wondering why we weren't getting back to them in a timely fashion.  We didn't forget about you, we never do.  Aside from the fact that we had hundreds of customer emails, we were also constantly back and forth between Egypt and our home town.  No, we didn't have to fly.  It was more like a teleporting thing.  I can't really describe it correctly, because it was something that none of us were really accustom with.  Honestly, the best way I can describe it is like it was quantum jumping only it was from one point on Earth to another.  It wasn't intergalactic.  We did this over the course of several months and the results are astonishing.  This is one of the pieces that we were able to make as a result of our involvement with the investigation.  
First things first, in early 2014 the discovery of a new tomb in Abydos rocked the world of history and archaeology.  From this tomb were found remains of a Pharaoh who was known as Worseribre Senebkay, here on out referred to as only Senebkay.  His reign was more than 3,600 years ago and he is part of the forgotten Abydos Dynasty.  The reigned for 50 years, from the year 1650 BC to 1600BC.  It was the 13th Dynasty of Egypt and for some reason or another they always seem to have been forgotten about.  Perhaps they are overshadowed by the people who built the pyramids or the ones built the Sphinx.  However, this is a very huge mistake, because the powers that can be had by simply invoking this family are second to none in accordance to Egyptian magic and sorcery.  Although the tomb may have been run through by vandals, the presence of both Neith and Nut are painted on the walls to hold sacred the powers that were given to Senebkay while he was still a mortal being.  
This piece was made after Deedee took it upon herself to wear the death mast of the King Senebkay.  You know, it's easier to beg for forgiveness than to ask permission.  That's how they saying goes, anyhow.  By her account, she says that when she put on the mask and peered through the eye holes, she was transported to an alternate reality.  In this dimension she could see all the dead spirits of all the deceased Pharaohs that had ever ruled Egypt.  They were standing guard in the place and by her account they were frankly happy that we were disturbing the place that was supposed to be their consecrated resting spot.  According to her it might have been the creepies account that she has ever had with spirits from another dimension, because the Egyptian are very powerful people and they can curse whomever they want and those curses will plague the person on whom they have been placed.  One such curse sunk the Titanic that was secretly transporting a tomb from Europe to America.  
Deedee tried to warn the people, but nobody else that was there could see what she could see, including myself.  They figured she was trying to get them away from the tomb so that way they could have all the powers for themselves.  When they refused to leave, she figure that we might as well stay too, although I have to admit, I was a little creeped out.  We stayed just long enough to be able to make this piece.  This piece was made with the energies that we were able to extract from the Death mask of Senebkay.  We pulled them out and placed them into this piece.  We have used it several times, it is not cursed and the power are all dual magic-- meaning you can use them however you choose.  
When you wear this ring you will either wear it on your ring finger or over your heart on a chain.  Each time your heart beats, the power will be spread throughout your entire body.  Once the power is in the full length of your bloodstream, this is when the fun begins.  Just as the third eye is lit up on this ring, you will also gain a third eye awakening, but it will be a very unique form of awakening.  The powers will surge through your body and you will transformed into the Pharaoh Senebkay.  You will be catapulted in time and exist as he existed.  This will give you a first hand account of what it was like to live in Egypt in ancient times, which will probably bring you a ton more knowledge that what you've ever had. This piece, when you transform, will also bring you the ability to open portals, the ability to create your own powers, the ability to shape-shift, the ability to see into all areas of time, the ability to make through move with your mind, the ability read other people's minds, the ability to grant wishes (even your own), the ability to create djinn, the ability to create stars, the ability to create stargates, the ability create black holes to allow you to travel to different realms, the meaning of sacred numerology and the ability to create its magic, and finally, the ability to hear the voices of the Gods in your ears as they direct you in magical ways.  This all happens because a Pharaoh was God incarnate.  Therefore, you will be given all the magic of a God.  You will not become a God, but you will be given all of their powers.  You will not stay in the Pharaohs form forever.  As soon as you are done living a portion of his life, you can come back to reality, where any powers and abilities that you have acquired will stick with you in your mortal form. 
This is one of the most powerful Egyptian pieces that we have had thus far, which is why it took us so long to offer it for sale.  It took a lot of testing to be able to say, "Yeah, we're ready to pass this one on."  I mean, it gives you a full Pharaoh transformation.  That is not something that you will see anyone else offering.  You don't want to miss out on this once in a lifetime opportunity.  You know what to do if you want it, go ahead and click the button!!