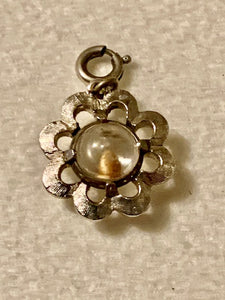 Zeta Magic Charm-- FAITH BEGETS MIRACLES (FOR BRACELET ONLY)
Regular price
Sale price
$38.00
---
4-7-21

We now take several forms of payment. You can pay with your credit card through PayPal. You can also send money via PayPal to kissmecrazie@gmail.com or ask for an invoice to be sent. We also take CashApp and Venmo. When using these forms of payment you will ask for an invoice and one will be sent. We also take Zelle, which is through your bank and your bank sets the limits. when paying through Zelle you will pay using the email kissmecrazie@gmail.com. We also take cash in an envelope, but you sent it at your own risk. We are not responsible for lost or stolen cash that is sent to us that we do not receive.

--------------------------------------------------------------------------------


The pieces from this next collection are quite a treat. They are customizable charm bracelets. Both the bracelets and the charms hold magic. They have been made in conjunction with a very powerful Traveler we know from the Zeta Universe. This is a universe that is parallel to ours. It's actually one of several universes that are parallel to our own. The Zeta Universe a trinary star system so the cosmic resolution of their atmosphere is a lot denser than anything that we would experience on Earth. The magic in the universe is the same as the magic in our own universe, just more concentrated and powerful. The Traveler helped us to tap into that ultra-powerful magic to create these pieces.

First, you will buy a bracelet. Some of them are empty and some of them come with charms already. If they come with charms the description will include what those charms do. If it is an empty bracelet, it will not. You will find the charms listed on the website under the same category. These charms can be added to either empty bracelets or bracelets that are being sold with existing charms. The bracelets are sterling silver with a decent amount of weight to them.

The bracelets have currents of power in them that keep the charms active a all times. They tie the powers of the charms to you that way you can use the powers whenever you want to. They are what keeps the magic circulating. The charms are the pieces that hold the magic from Zeta. These are super concentrated and very powerful. However, they need to be attached to one of the bracelets in order for them to work. In other words, you cannot just buy one of the charms and expect them to work. They only work in conjunction with the bracelets. If we run out of bracelets we can get more no problem. These are the ones that we have to start with.

Any number of charms can be added to any bracelet. You can get more than one bracelet if you want. These are fully customizable and you can create, mix and match however you want to. These make excellent Mother and fathers day gifts. Also, graduation is right around the corner! They also make an amazing engagement gift or something to buy for yourself. They are truly powerful amazing pieces.

Each of the bracelets will be sold separately, as well as the charms. The bracelets and the charms can be found under the same section of the website that way they are easy to find together. If this piece is a charm or a bracelet with accompanying charms, please read below to find out what power/magic you will be receiving.

THIS PIECE IS A STERLING SILVE, VINTAGE CHARM TO BE USED WITH THE ZETA MAGIC BRACELETS. THIS PIECE HOLDS MUSTARD SEEDS AND VERY POWERFUL RELIGIOUS MAGIC. IT SAID IN THE BIBLE IF YOU HAVE FAITH THE SIZE OF A GRAIN OF MUSTARD YOU WILL BE ABLE TO TELL THE MOUNTAINS TO MOVE AND THEY WILL OBEY. THIS PIECE GIVS YOU THE ENERGIES OF STEADFAST FAITH AND ALLOWS YOU TO SPEAK YOUR OWN MAGIC. THIS WILL BE DONE NOT BY YOUR OWN ACCORD, BUT WITH THE BLESSING JESUS CHRIST.